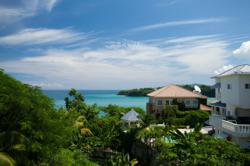 Ocho Rios, Jamaica (PRWEB) October 17, 2011
The most luxurious private villa in Jamaica, Jamaica Ocean View Villa – http://www.jamaicaoceanviewvilla.com – today launched its new website showcasing numerous new online features and enhancements in order to meet the needs of the most discerning clientele. The Jamaica villa located on an exclusive private cove near Ocho Rios, boasts 8,000 square feet of the ultimate in luxury with five spacious bedrooms and unparalleled direct ocean views. The luxury Jamaica Ocho Rios villa is sumptuously appointed and the new website is designed to accommodate those who expect the very best. New website features for the Jamaica luxury villa include the following:

Mobile compatibility – guests may book and manage their stay at the villa in Jamaica from any smartphone device, including Android, iPhone or Blackberry.
Enhanced navigation allows easier browsing of the Jamaican luxury villa's website's content.
The new online booking system allows guests to make a new booking for the Ocho Rios villa in just minutes, change an existing booking (such as dates or length of stay), or cancel existing bookings.
Guests can notify the Jamaica luxury villa's reservation manager in only minutes of any special requirements or needs prior to arrival, including dietary requirements or restrictions as well as special needs.
Guests may now access Jamaica Ocean View Villa through social media located on the new website's home page, such as Facebook and Twitter, to receive the latest news and specials for the Jamaica luxury villa.
"Jamaica Ocean View Villa caters to the needs of the seasoned, upscale traveler who expects excellence not only during their stay with us, but when booking and planning their stay at our Jamaican luxury villa," said Cavel Capalbo, owner of Jamaica Ocean View Villa. "Our affluent clientele not only demands the very best - they want to book their villa in Jamaica in minutes from their mobile while having all necessary information at their fingertips in seconds. Our new website with enhanced features ensures the expectations of our discerning guests are not only met – but exceeded," concluded Capalbo.
Recently built and opened in 2006, Jamaica Ocean View Villa is close to Sandals Couples in Ocho Rios, Jamaica. The luxury Jamaica Ocho Rios villa is located in Rio Nuevo, only a few minutes from the excitement and nightlife of Ocho Rios Town, Dunn's River Falls and other major attractions and international resorts.
Visit http://www.jamaicaoceanviewvilla.com for information or to book a reservation.
Media Contact:
Cavel Capalbo, Owner of Jamaica Ocean View Villa
Tel. 401-782-0349
###