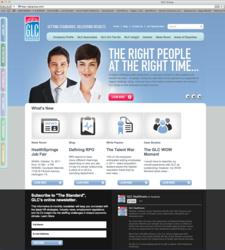 As the site continued to develop, we realized that we had the opportunity to do much more than just inform people about the company, but use it as a platform to share our knowledge and experience.
Ft. Lauderdale, FL (PRWEB) October 09, 2011
GLC Group announced today the launch of a new website at http://www.glcgroup.com, creating a one-stop staffing solution for both their clients and candidates. The innovative website offers a complete range of GLC services as well as the most current information and ideas on the latest employment trends, job opportunities and events helping to connect the nation's top employers with the best talent. In addition, a section titled "GLC Insights" will feature regular updates designed to keep Human Resource managers up-to-date with the latest industry trends and provide candidates with guidance on everything from how to write a better resume to how to find the right career opportunity.
The new site also features real time job postings through GLC's proprietary content management system, web forums including industry news, event, blogs, white papers and more. The site also offers people a place to register for "The Standard", GLC'S complimentary newsletter and educational webinars.
"The site was originally conceived as an online credentials brochure designed to communicate GLC'S full scope of services and areas of expertise," said Scott Eble, GLC Group's Director of Marketing. "As the site continued to develop, we realized that we had the opportunity to do much more than just inform people about the company, but use it as a platform to share our knowledge and experience," added Lorin Cone, GLC Group's President and CEO. "The new site will be an evolving forum, offering our clients and candidates the best of both worlds ­– industry expertise combined with full-service staffing solutions."
About GLC Group
GLC Group is a full-service talent resource offering innovative, flexible and aggressive solutions for leading Fortune 100 and 500 corporation's recruitment needs. With locations in Atlanta, GA, Austin, TX, Charleston, SC, Dallas/Fort Worth, TX, Fort Lauderdale, FL, Los Angeles, CA, Norfolk, VA, Syracuse, NY and St. Louis, MO, GLC has a nationwide presence. Unlike most other companies in the industry, GLC provides a "mix and match" flexibility approach – whether it's temporary, permanent, RPO or BPO – through a single point of contact, providing the resources of the entire team within the GLC Group. When it comes to finding and providing the right talent, GLC sets the standards and delivers the results. They don't just hire to fill a job description, they learn a company's corporate culture then seek talent that ultimately will grow with that company. For over a decade, GLC has earned the reputation as one of the nation's premier providers of recruitment services. They are a company of top performers offering unmatched expertise and a proven track record in providing both contingent workforce talent through their subsidiary GLC On-The-Go and Permanent Placement, Recruitment Process Outsourcing (RPO) and Business Process Outsourcing (BPO) services through GLC Associates. The team at GLC Group follows a simple approach to understanding their client's needs… they listen. They work hard as their partner, offering innovative recruiting techniques, providing updates on the latest employment trends and delivering the personal guidance needed to effectively manage all staffing needs while helping their clients achieve financial and operational goals.
GLC'S customized contingent and RPO solutions include:

Strategic Human Resource Planning
Enhanced Employee Branding
Increased Hire Quality
Innovative Screening Process
Unmatched Recruiting and Hiring Methods
Employee Onboarding
Multi-pronged Sourcing Strategies
GLC is revolutionizing the way companies view talent outsourcing. They pride themselves on the solid relationships they have built with both their clients and candidates, providing unmatched service to each. To learn more, please visit glcgroup.com.
# # #