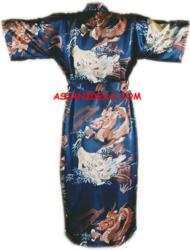 "If you have seen the movie One Day with Anne Hathaway, she is wearing a blue Chinese Dress at a wedding. It's a beautiful dress to wear to any occasion and excellent to use for Halloween."
Easton, PA (PRWEB) October 20, 2011
In preparation for the season, the online retailer is focusing on maximizing the usage of their most popular Halloween products. With their quality cotton kimono robes, Asian Ideas recommends reworking a doll-like Geisha costume into a traditional Asian party dress. Laurie Smith, Marketing and Customer Service Representative at the company, adds "If you have seen the movie One Day with Anne Hathaway, she is wearing a blue Chinese Dress at a wedding. It's a beautiful dress to wear to any occasion and excellent to use for Halloween."
For decorative touches, a bustling socialite can string orange paper lanterns from the ceiling to set the tone for a spooky party. Rearranging lantern patterns and alternating color schemes when festivities end make for a lighting design that can be changed with the passing seasons. When in doubt, paper lanterns can be collapsed and stored flat inside the boxes in which they were shipped.
Whether it be a kimono robe, kung fu costume, or a paper lantern Asian Ideas invites its customers to explore their own creativity and find alternatives to the storage bin.
About Asian Ideas
Asian Ideas is the premiere website for Chinese, Japanese and Asian goods. The company offers a wide range of items from their boutique of gifts and handcrafted merchandise, each of which are specially selected to reflect thousands of years of Asian history and culture. With a timeless quality, Asian Ideas wares and gifts last as long as the sentiment does. The company commits itself to providing personalized online assistance with its first-rate customer service and care.
###