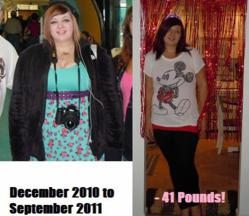 "The group [serves] as an outlet where we talk about our failures and successes and encourage each other just as we did during our time at Camp Shane," said Fleming.
Ferndale, NY (PRWEB) October 18, 2011
Camp Shane's summer 2011 session is gone, but not forgotten, thanks to Priscilla Fleming.
Fleming was a senior camper at Camp Shane, the longest running child/teen/young adult weight loss camp in the country for six weeks of the summer session (losing 24 pounds in the process) and was so pleased with her experience that she spent the last three weeks as a new counselor herself.
As summer's end approached (when Camp Shane would close its Catskill Mountains location) Fleming hated to say goodbye to all the close friends and the wonderful staff who had made her time at the camp the most memorable summer of her life. So like any good member of her generation, she took to cyberspace to solve the problem of being distanced from her support group. Fleming started a Facebook group, named "Camp Shane 2011."
"I collected email addresses from my fellow campers and invited them to join the group so we could all stay in touch. The group would serve as an outlet where we could talk about our failures and successes and encourage each other just as we did during our time at Camp Shane," says Fleming, who is thrilled to report 217 of her fellow campers have joined the group so far.
Many of the group members share how they are maintaining (or even continuing) their weight loss at home, sharing low calorie recipes and fitness routines as well as before-and-after photos of their bodies changing. Nutritionists from Camp Shane answer questions and counselors offer encouragement to the campers they worked with over the previous summer. All group members feel free to share their innermost fears, concerns and problems with the other members since the group is a private one. Anyone wishing to join must request admittance from Fleming herself, who checks that the person requesting membership actually attended Camp Shane's 2011 session.
"Some well-meaning (but nosy) parents would like to join, but the group is only for actual campers," explains Fleming. "That way, everyone in the group feels free to speak openly about their experiences and feelings."
Fleming will be attending next summer's 2012 session at Camp Shane as a counselor, and is already thinking of evolving the Facebook group to include future campers. "The group has proven to be very popular, so we probably will be expanding it."
Camp Shane's founder David Ettenberg couldn't be more thrilled.
"The Camp Shane Facebook group sprang from the campers' desire to continue on their path to a healthy lifestyle and offer a hand to each other in support and friendship,'" he says. "Such a caring attitude perfectly expresses what Camp Shane is all about―from the counselor, nutritionists and fitness experts on our staff to the caring and motivated campers from all over the world who gain support and encouragement from each other―everyone ends up a lifelong member of the Camp Shane family."
Camp Shane hosts campers ages 7 to 25 for their program and is not a boot camp. The program includes a complete nutrition and weight loss program with entertaining exercises, delicious and healthy meals, resort activities like zip-lining, swimming, hiking, and dance classes, fitness experts, motivational speakers and more -- all in a breathtaking 120-acre setting. More information can be obtained by visiting Camp Shane weight loss camp, or by calling (914) 271-4141.
# # #