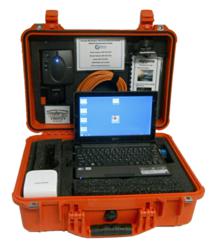 Using DigiGone™ will allow MMA's clients to access secure video telemedicine services without significantly increasing their Satellite or Mobile Data bill
Washington DC and Tampa, FL USA (PRWEB) October 11, 2011
The George Washington University Medical Faculty Associate's (GW-MFA) Department of Emergency Medicine has reached an agreement with Diginonymous LLC, to install, utilize and promote the company's powerful software-based video conferencing tool, DigiGone™ at its Worldwide Emergency Communications Center (WECC). The WECC supports the Department of Emergency Medicine's Maritime Medical Access (MMA) program. MMA is the academic leader in delivering comprehensive, real-time telemedicine solutions & services to shipping vessels, work boats, yachts, aircraft, offshore platforms, research teams and organizations in remote locations around the world.
With DigiGone™, MMA clients will have enhanced access to over 550 GW-MFA, board certified Emergency Physicians and Specialty providers. DigiGone™ will provide low cost secure video and audio teleconferencing, video streaming, VoIP, IM Chat and file transfer capabilities which require no more than a PC, Net Book, Tablet, or Smartphone to utilize. "Recently, our team evaluated numerous video conference platforms to use with our remote clients," said Kyle Keenan, Director, Remote Medical Programs, GW-MFA Department of Emergency Medicine. "We wanted a technology that was easy to use, secure and private to meet HIPAA requirements, required no more than a PC, and made efficient use of the expensive satellite or mobile data airtime required at sea to reach our communications center. As a result of our evaluation, we have installed DigiGone™ software at our WECC and will encourage clients to utilize the software as a preferred method of video communication with our MMA physicians." MMA and Diginonymous plan to jointly market a service which includes MMA's services and DigiGone™ Video Conferencing Software for Telemedicine.
"Vessels worldwide already use Maritime Medical Access's services to protect their crew and guests, while reducing their insurance costs, limiting their litigation exposure, and avoiding costly medivac or port diversions for medical emergencies," said George N. Spohn, Senior Vice President, Global Sales and Marketing at Diginonymous, LLC. "DigiGone™ was a natural choice for the MMA team, because it was designed for and has already proved its cost effectiveness and utility aboard shipping vessels, aircraft and with remote operatives. We are proud to not only be supplying the GW-MFA with a telemedicine tool, but will also be promoting Maritime Medical Access services to our clients and Partners."
Unlike "bandwidth hogging" consumer grade video solutions, DigiGone™ is designed to meet the rigorous demands of government, maritime and aeronautical organizations. It uses as little as 1/10th of the bandwidth of services like Skype®, yet includes an encryption module which meets government, medical and financial industry standards for privacy and security. Using DigiGone™ will allow MMA's clients to access secure video telemedicine services without significantly increasing their Satellite or Mobile Data bill and leave room for other Information Technology bandwidth requirements.
Diginonymous, LLC
Diginonymous, LLC is a Tampa, Florida, USA, based software development company that specializes in creating encrypted, software based communications and security solutions which are portable, easy-to-use and extremely cost effective. DigiGone™ its premier product brand, is a video collaboration tool used by the US and Foreign military and governments, Global Shipping companies, Media outlets, Financial Institutions, Relief Organizations and many others.
http://www.digigone.com
Maritime Medical Access at The George Washington University Medical Faculty Associates
Maritime Medical Access has been delivering Remote Medical Services to the worldwide maritime and aeronautical industries since 1989, and is part of the world renowned George Washington University Department of Emergency Medicine and affiliated with the International Emergency Medicine Program at the Ronald Reagan Institute of Emergency Medicine.
http://www.gwemed.edu/maritime
###