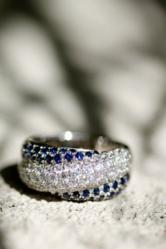 (PRWEB) October 11, 2011
David Zuill, owner of Davidrose Jewelry, has gone to great lengths to showcase their one-of-a-kind diamond and gold bridal jewelry pieces as just one part of the vast array of timeless custom jewelry he creates for his clients. Trendy Fashionistas are offered a new global access point for exquisite custom jewelry directly from the new Davidrose website. Those whose taste in jewelry reflects a unique lifestyle, need only look to Davidrose.
Every gemstone, every diamond, every eye-catching design from Davidrose, stands out when compared to other jewelry competitors. And - all gems sold by Davidrose are obtained from "Conflict-Free" sources.
Taking their inspired diamond and gold jewelry pieces even further, the average person may not know that jewelry was once created and worn for healing and transforming purposes along with balancing the mind, body and soul. Davidrose's experience in the jewelry design business is extensive and knows this to be true and says, "Being a popular and niche gem Boutique, allows us to offer extraordinary pieces of luxury jewelry other designers cannot." David further adds, "We can transform gifts of nature into works of art. And we only make 4 pieces of the same styles of our Diamond and Gold Jewelry collections to ensure the exclusive feel for our clients."
In the Jewelry industry, positioning a company in such a way to ensure it can adapt to rapidly changing times, is not only good practice, it is essential for any business. And that is exactly what Davidrose does. The way Davidrose does business also reduces their "carbon footprint." Since Davidrose designs, creates and sell their own pieces, the jewelry retailer (middleman) is removed. This one step in their business plan reduces high overhead costs of retail space, and in turn offers the best value on luxury jewelry and diamonds for their clients. David offers, "In the current economic context, our clients are looking to purchase pieces with values that will pass the test of time. A gift of Diamond and Gold jewelry is not just a gift - it is also a sentimental investment."
So how did David meet Rose? In 2009 David met Rose in Toronto and fell in love. They quickly discovered their collective passion for jewelry. Rose, equipped with her knowledge, experience and love for the Fashion Jewelry industry; David's devotion to Social & Environmental issues, coupled with his knowledge of Diamonds and Gemstones. Fueled by each other's creative energy and ambitions, the marriage of high fashion and heightened consciousness gave birth to Davidrose.
When recently asked by the press about the "Me hand" and the "We hand" clients and what it means, David replied, "Our next press release will elaborate on this so you must read that release for the answer!"
To reach Davidrose, please call their office at 441 516-7949 or visit their website at http://www.davidrose.bm.
###