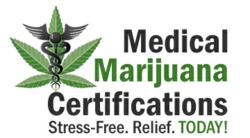 *Med Records obtained FREE
*FREE Online Application
*FREE Pre-Qualification
*FREE Pics and Scanning
Phoenix, AZ (PRWEB) October 18, 2011
Arizona MMC, the premier AZ medical marijuana card certification office in the state, has multiple discount specials currently running for a limited time.
The office visit for an arizona medical marijuana doctor has been discounted 25% to $149. This includes a full evaluation, obtaining the patient's medical records, and completing the online application to the state with the patient. If a person needs a picture taken and documents scanned, Arizona MMC does it all included in the price, normally it is a $35 add on amount.
In addition to the above, Arizona MMC has negotiated a discount with Bent Glass Designs smoking products. Available online, Bent Glass makes custom hand blown glass on glass water pipes, glass bubblers, and glass hand pipes, all made with pride in the USA. A lot of the products contain dichroic glass, which makes them unique, and the glass in most of the pipes is 50mm. The discount currently is 10%, and the products are already priced very competitively. Every order receives a free custom glass hand pipe, and orders totaling over $100 receive free shipping.
To date, Arizona has certified over 13,000 patients since the Medical Marijuana in AZ program began in April. Qualifying conditions include Severe Nausea, Seizures, Glaucoma, Cancer, Hepatitis C, Severe and Persistant Muscle Spasms, Crohn's Disease, Cachexia or Wasting Syndrome, Amyotrophic Lateral Sclerosis, HIV/ AIDS, Agitation of Alzheimer's Disease, and Chronic Pain. Significant research has shown marijuana to have beneficial effects for these conditions, and improve quality of life for debilitated patients.
Patients must visit a licensed Arizona doctor to receive a Certification, which is then submitted to the Arizona Department of Health Services for approval. Over 99% of the submitted applications so far have been approved.
One of the current problems with the Medical Marijuana AZ program is that no dispensaries exist to obtain cannabis. Arizona MMC maintains a list of licensed caregivers for assistance.
Prospective patients may either call toll free (855) 294-3227 or visit http://www.arizonammc.com to book their appointments completely online.
# # #