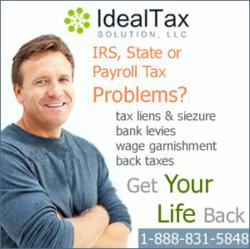 We are looking forward to representing these business owners in negotiating unpaid taxes, lowering tax debt, IRS penalties and most importantly relieving the stress and worry." said Murad Khatib, Marketing Manager
Costa Mesa, CA (PRWEB) October 07, 2011
Ideal Tax Solution has implemented a special toll free hotline for clients needing assistance or has questions regarding unpaid taxes, specifically for those who have been unable to pay self employment, payroll or business taxes.
"The IRS can be extremely unforgiving when enforcing unpaid payroll taxes, to ignore and avoid collection will result in stiff penalties and possibility of criminal prosecution. We found that businesses that are still operating or defunct that owe payroll taxes have particular needs and urgency. We are offering a dedicated hotline for business owners to speak with a specialized trained business tax professional. With the overwhelming amount of business closures and declining profits due to the economy the amount of IRS collection and enforcement is on the rise. We are looking forward to representing these business owners in negotiating unpaid taxes, lowering tax debt, IRS penalties and most importantly relieving the stress and worry." said Murad Khatib, Marketing Manager for Ideal Tax Solution.
The Ideal Tax Solution Business Hotline Toll Free Number is 1-888-265-4115, business tax professionals are available Monday – Friday, 8:00 – 5:00 P.M. (PST).
About the company: Ideal Tax Solution, LLC is located in Costa Mesa, CA and provides tax negotiation services, preparation and is a collection defense specialist. Their Tax Attorneys, IRS Enrolled Agents, CPA's, Senior Tax Consultants have over 55 years of combined experience working to help American tax payers with the IRS and State Tax Agencies. Ideal Tax boasts an "A" rating with the Better Business Bureau earned through providing excellent services.
###