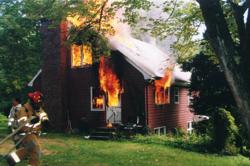 "Fires can occur anytime, anywhere. That's why it's so important for each of us to take steps to protect our homes and families," said Sean Welch, a senior assistant vice president with Amica Insurance.
Lincoln, RI (PRWEB) October 08, 2011
House fires kill thousands of people and cause billions of dollars worth of damage each year. That's why Amica Insurance supports National Fire Prevention Week and is urging homeowners to take steps now to protect their homes and families.
"Smoke detectors are a top priority," said Sean Welch, a senior assistant vice president with Amica Insurance. "Make sure they're working and make sure you have enough – one for every floor of your home, as well as every bedroom."
"It's also important to have an evacuation plan so your family knows how to get out of your home quickly," Welch said. "But having the plan isn't enough. You have to rehearse it often. And make sure it includes a safe place to gather, so everyone knows where to go if there's a fire."
Planning ahead is critical, said Lorraine Carli, vice president of communications for the National Fire Protection Association. "You could have as little as three minutes to escape a home fire before it becomes deadly. Smoke alarms and a well-rehearsed escape plan can provide important safeguards for families."
Here are some other tips and reminders:

Talk to children about the dangers of playing with matches and lighters. Store matches and lighter in a locked cabinet, or out of the reach of children.
Turn off the stove and blow out any candles when you leave the room.
Keep space heaters at least three feet from things that can burn. Always turn them off when you leave the room or go to bed.
Make sure washing machines, dryers and stoves are regularly inspected, cleaned and serviced.
Have chimneys, fireplaces, wood and coal stoves and furnaces inspected and cleaned. (Creosote logs can reduce the build-up of creosote in fireplaces.)
Keep things that can burn away from your fireplace, wood stove, stove top and other heating sources.
Store gasoline in approved containers, and keep the containers in an outdoor shed or other area away from your home. Don't bring or use gasoline indoors.
"Smoke detectors and carbon monoxide detectors also play a critical role in helping to save lives, Welch said. "Nearly two-thirds of all fire deaths occur in homes that either have no smoke alarms – or the smoke alarms weren't working. Make sure your home is equipped with smoke detectors, and check them frequently to make sure they're working properly."
Here are a few other reminders:

Install smoke alarms and carbon monoxide alarms on every level of your home, including the basement. Make sure there's one inside every bedroom and outside each sleeping area.
Demonstrate for children what a smoke detector sounds like and talk to them about what to do if they hear one.
Test each smoke and carbon monoxide alarm monthly to make sure it works.
Replace batteries in all smoke and carbon monoxide alarms twice a year, when you change your clocks for daylight saving time.
Replace the smoke detectors and carbon monoxide detectors alarms every 10 years.
"Fires can occur anytime, anywhere. That's why it's so important for each of us to take steps to protect our homes and families," Welch said. "National Fire Prevention Week is a great time to for all of us to brush up on basic fire safety tips."
###