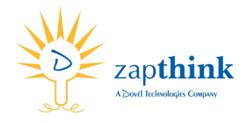 Mclean, VA (PRWEB) October 10, 2011
ZapThink, a Dovèl Technologies Company, is now delivering version 9.0 of the Licensed ZapThink Architect (LZA) SOA & Cloud Boot Camp, its globally recognized credentialing course for architects and other IT professionals. ZapThink's new headquarters in McLean, Virginia is hosting this week's course. The course will be offered in San Diego in November and again in McLean in December.
As the market for agile approaches to enterprise architecture matures, ZapThink continues to remain at the forefront of available best practices. Long recognized as leading experts in Service-Oriented Architecture (SOA), with LZA 9.0, ZapThink extends its thought leadership into emerging technologies and approaches, including REST, Semantics, and Cloud Computing.
Representational State Transfer (REST) is a Web-centric approach to addressing resources on a network. Heralded as simpler and less verbose than Web Services, REST has engendered a near-religious fervor among architects and integration engineers in enterprises around the globe. When architected properly, REST-based SOA is more lightweight, flexible, and user-centric than "traditional" Web Services-based SOA -- but as with all architectural approaches, the devil is in the details.
Semantics addresses how data come to have meaning. In the context of SOA, Services send and receive messages and those messages contain information. Without understanding the meaning of that information, however, the information becomes useless. As organizations build increasingly business-centric Services, they risk obscuring the meaning of the information those Services expose and consume. The LZA course provides real-world examples of how to solve such complex semantic challenges.
Cloud computing is a model for enabling ubiquitous, convenient, on-demand network access to a shared pool of configurable computing resources that can be rapidly provisioned and released with minimal management effort or service provider interaction. The LZA course focuses on the enterprise architect's role in planning Cloud-based solutions for the enterprise, balancing vendor hype with recommendations that address the organization's business goals.
"Now that most enterprises have made real progress with SOA, it's becoming increasingly important for architects to understand the more advanced challenges SOA presents," said Jason Bloomberg, President of ZapThink. "How best to leverage REST, Semantics, and Cloud Computing to address dynamic business needs in a complex technology environment are becoming critical skills for today's successful IT professionals."
With over 1,500 credentialed professionals globally, ZapThink's Licensed ZapThink Architect SOA & Cloud Architecture Training & Certification Boot Camp is recognized around the world as the best single Service-Oriented Architecture and Cloud Architecture training course available anywhere. The LZA SOA & Cloud Architecture Boot Camp is an intensive, four day "fire hose" of information that prepares architects and other IT professionals to succeed with their SOA and Cloud efforts, whether they're just beginning or are well down the road with SOA and Cloud Computing. For more information and to register for an upcoming course, visit http://www.zapthink.com/soa-training-certification/.
About ZapThink
As a recognized authority and master of Service-Oriented Architecture (SOA), Enterprise Architecture, and architectural approaches to Cloud Computing, ZapThink provides its global audience of public and private sector enterprises with practical advice, guidance, and education, to assist in creating an architecture that meets business needs. ZapThink offers a clear roadmap for standards-based, loosely coupled distributed computing – a vision of IT meeting the needs of the agile business.
ZapThink's flagship offering is the Licensed ZapThink Architect (LZA) course, which provides training and certification on SOA & Cloud Computing around the world. ZapThink has certified over 1,500 individuals to date, and continues to offer an expanded LZA curriculum. Outside of the classroom, ZapThink publishes the ZapFlash Newsletter. Distributed to over 20,000 subscribers, this newsletter provides perspective on technology trends and implementations of cutting edge IT solutions.
In August 2011, Dovèl Technologies acquired ZapThink LLC as part of its continuing strategy to expand its scope, capabilities, and thought leadership in SOA, Cloud Computing and related technologies. ZapThink is now a wholly owned subsidiary of Dovèl Technologies. By joining with Dovèl, ZapThink is able to draw on the expert resources within the company and their real-world experience in implementing Cloud and SOA in federal systems. This expanded pool of talent and experience enriches the training experience and allows ZapThink to create more customized courses to further educate the market on the realities of SOA and Cloud.
About Dovèl Technologies
Dovèl Technologies provides high-end software and application development to government clients. Dovèl is recognized as an industry leader in Service Oriented Architecture (SOA), using the approach to create low-impact approaches to process, communicate, and store mission critical information. Clients include Food and Drug Administration, Department of Defense, U.S Census Bureau, Department of Education, and the Federal Aviation Administration. Dovèl has been appraised at CMMI level 3 and its annual quality report receives accolades from industry leaders such as Capers Jones, who has listed Dovèl in the category of "Companies That Utilize Best Practices" along with IBM, Amazon, Google, and Apple. To learn more visit http://www.doveltech.com.
Press Contact:
Piper Conrad
piper(dot)conrad(at)doveltech.com
571-499-3718
###