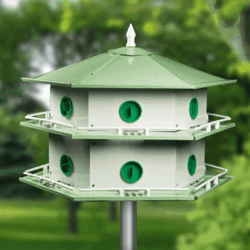 Over One Million North Americans Put Up Housing
For Purple Martins
Clarence, NY (PRWEB) October 11, 2011
Purple Martin migration from South America starts around mid-January in southeastern US. USABirdSupply.com says there are many things to consider when providing housing for martins. When should a new martin house or gourds be put up? What should be done to prepare for their arrival? What is the best way to expand the colony? What is important in attracting martins for the first time?
Providing purple martin houses and gourds in the Eastern US is important because martins are the only bird species that totally relies on humans for nesting. According to the Purple Martin Conservation Association over one million North Americans put up housing for Purple Martins.
What's the appeal? They are a beautiful native bird whose purple iridescent color, flight pattern (swooping as they eat flying insects) and colony nesting make them very interesting birds to watch. Also, feeling great about providing their only source to nest.
10 Ways to Get Ready for Purple Martins Return From Migrating in South America
1. Grow a colony by adding more housing. With an existing 12-Room House, grow the colony by adding another 12, 24 or expandable room house. If replacing an existing house, it should be very similar to the previous house and located in the same area. If there was only one house up, put the new house up next to the old house, wait for the martins to move to the new house and then replace or take down the old house.
2. Gourds or Houses? Gourds can achieve 100% occupancy while houses generally have 50-60% mainly because some males claim more than one room in a house. Gourds also sway in the wind which makes them less attractive to starlings and house sparrows. Martin houses offer porches and railings to help protect fledglings. Both come with starling resistant options. USABirdSupply.com offers a variety of starling resistant gourds and starling resistant houses.
3. Protect houses and gourds during the winter. While martins are in South America, inspect martin houses and gourds for damage, plug entrances with door stops or take them down for the season as starlings and house sparrows stay year-round.
4. First time purchasers new to the hobby should note that older martins generally return to their previous nest site year after year unless they had a problem breeding the year before due to weather, predators, nest mites and parasites, decrease in open air space by trees, or other problem with the house or gourds. Then, they may seek other houses.
However, fledgling martins will generally not return to breed where they were born, so they will seek out new housing. For new houses, wait until younger martins seeking new housing arrive, which is after the first, older martins arrive. And, the time of arrival can vary up to 30 days. Houses should stay up through August. If martins don't nest the first year in the house or gourds, they may the nest the next year so some patience is required.
5. Migration- Martins arrive in southern Florida and southern Louisiana in January, and further north in March and April. Florida martins arrive first and leave first (mid-June) while martins in other areas generally leave by mid-August with the last martins leaving the US around October for Brazil. Males arrive before females, older martins arrive before younger birds.
6. House or Gourds location is very important. Housing should be 10-20 feet off the ground and 30- 120 feet from your own house. There should be no trees taller than martin housing closer than 40 feet and it should be away from shrubs and bushes. Martins prefer open areas where they can swoop and glide yet near a house or outbuilding (within 120 feet) as martins have learned that the closer they nest to humans, the safer they are from predators.
7. Nest Checks should be done weekly from the nest building phase until the oldest fledgling is 24 days old. Nest checks help keep out nesting material of sparrows, provide a check for parasites and mites and allow for general inspection of the health of the fledglings. Learn more about nest checks before doing them.
8. Maintenance – Remove old nests, hose each compartment with soap, repaint wooden houses, and ideally store out of the weather or if left outside, plug the holes. Martin houses should be inspected (nest checks), maintained and have pest monitoring and control.
9. Timing – This becomes a bit tricky. If the martin house is not opened or put up in time, they can seek out other accommodations. If it is put up too early, starlings or house sparrows, which require trapping, can occupy the house. Check the purple martin scout report which gives current information year to year.
10. Weather – According to purplemartin.org, martins are affected when the temperature is constantly below 48 degrees or there is constant rain for 3-5 days because insects do not fly during these conditions and martins can starve. Heat is also a problem and since this past summer was very hot across most of the nation, nestlings in non-ventilated martin houses can die if the heat is above 100 degrees for many days. As heat is often accompanied by a drought, the lack of water means lack of insect food for the martins. Make sure martin houses and gourds are well ventilated.
USABirdSupply.com is located in Clarence, NY outside Buffalo and offers over 1,100 bird products including purple martin houses & gourds, bird feeders, bird houses, bird baths, garden art, bat & owl houses, garden flags, butterfly feeders, live mason bees and honey bee supplies.
# # #