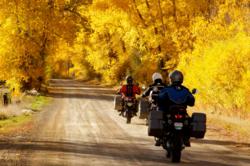 The anticipation of a great trip is an essential part of the entire experience
Eagle, CO (PRWEB) October 22, 2011
Butler Motorcycle Maps are world renowned for stunning cartography and the most comprehensive collection of the best motorcycle rides. The water proof and tear resistant maps fit perfectly in most tank bags and make a great compliment for GPS users.
" We are pleased to partner with White Horse Press and Steve Farson on their new book, Motorcycling Colorado. Steve put a tremendous amount of work into this guide and we think that the map and book together make an incredible resource." Says Justin Bradshaw of Butler Maps. With these two products riders can view and learn about every great road in Colorado. Planning a road trip to the Centennial State has never been so easy. " I really see riders with a map spread out on the work bench holding the Motorcycling Colorado book and dreaming of their ride. The anticipation of a great trip is an essential part of the entire experience. These two resource help foster that dream." Says Bradshaw.
The Complete Guide to Motorcycling Colorado is 448 pages. There are 8 well organized sections displaying photos, maps and detailed descriptions of each ride. Where possible the author recreated historical photos depicting an interesting glimpse into Colorado's rich history.
Butler Maps retail for 14.95. Motorcycling Colorado retails for 29.95. Both White Horse Press and Butler Maps will offer the book and map package at a discounted rate of $35.00 online.
###