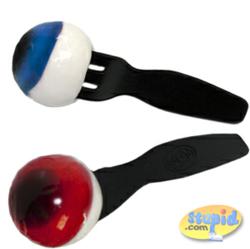 Los Angeles, CA (PRWEB) October 10, 2011
Stupid.com unveiled today the top crazy Halloween Candy for 2011. Trending on this year's list of scary and wacky candy are the gruesome Eyeballs on a Fork lollipop, super creepy Body Parts Sushi gummies (chopsticks included!), and Green Glowing Brain suckers.
Also included on the list are Spider Web Cotton Candy (sour apple flavored and super fluffy), uber-gooey Zombie Blood Energy Potion (a fan-favorite for the second year in a row), and the super gross Crime Scene Sample Candy (available in Blood, Saliva, and Urine vials).
The Craziest Halloween Candy for 2011, in no particular order:
Eyeballs on a Fork - Strawberry and blueberry flavored treats that are popular with adventurous kids and teens.
Spider Web Cotton Candy - Great for decorations and parties, as well as eating.
Body Parts Sushi Gummies - Complete with bits of fake fingers, ears, and noses, and chopsticks.
Zombie Blood Energy Potion - A fan favorite amongst teens and young adults.
Giant Brain & Beating Heart Lollipops - A big sellers for trick-or-treat handouts.
Grave Grabbers Gummy Hands – Witch, skeleton, and zombie hand all in one pack.
Trick the Pooping Candy Black Cat - Hilariously gross for kids and adults alike.
Crime Scene Sample Candy - Includes Blood, Urine, and Saliva samples. Good for 17+ audiences.
For more popular crazy Halloween candy and treats, check out Stupid.com's Halloween Candy section. Additional information about the products on the list is available at Stupid.com, including detailed search results and sales volume estimates.
About Stupid.com:
Stupid.com has been spreading laughs – on gift at a time – since it's burst onto the online retail scene in 1998. From gag gifts, to stocking stuffers, to office pranks, the company offers a huge selection of over 2,000 products and 100 gift categories of crazy and insane gifts.
Justin Scott
http://www.Stupid.com
Justin(at)Stupid(dot)com
(323) 878-1270
###