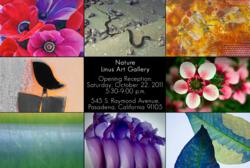 If not for the sake of art, come for the free wine!
Long Beach, CA (PRWEB) October 10, 2011
As previously announced, fine art photographer Linnea Lenkus expanded her horizons last year by launching her long awaited fine art website in addition to her main portrait photography website. This last year she entered and was selected for several juried competitions, and the creation of Linus Galleries was the natural next step to her vast creative empire.
The first show "Nature" will be the unveiling of Linus Galleries' first location in Pasadena. A multitude of artists are to showcase and sell their interpretations of the theme for the exhibition. The winning entries, as well as Judge's Favorite, have already been chosen. Spectators will have the opportunity to select the winning piece the day of the opening. The Fan Favorite as well as the Judge's Favorite will be announced on the Linus Galleries website. You can view the submissions in advance on the company website.
The following names are just a few of the amazing artists that have submitted captivating pieces for the exhibit:
· Charla Puryear
· Donna Rosser
· Bobby Villapando
· Gail Werner
· Michael Verbenec
· Ione Citrin
· Jadranka Grbic
· Thomas M. Eaton
· Katie Boatman
· Kirk Kain
· Lindsay Budner
And many more…
There will also be palatable wine and hors d'oeuvres for the of-age patrons. Mark your calendars for future exhibits. If not for the sake of art come for the free wine!
The upcoming exhibits are as follows:
·Black and White Exhibit, Long Beach Art Gallery-Monotone never looked this great; a collection of superb black and white artists. Opening reception is Friday, November 4th, 2011, 5:30-9:00 p.m.Celebrate the Long Beach First Fridays just over the hill.
Black and White, all artists, Long Beach Art Gallery. Call for entries deadline 11/01/2011
·Rest in Show Exhibit,Long Beach Art Gallery-Lenkus will display her collection of rescued dogs. Other dog photographers are welcome to submit their rescue photography as well. A portion of proceeds from print sales will be donated to local animal shelters. Opening Reception Saturday, December 17, 2011, 5:30-9:00 p.m.
Rest in Show Dog Photography, Long Beach Art Gallery. Call for entries deadline 11/05/2011
"Discovering Linnea was one of the greatest "gifts" I could have given myself. She is an amazing photographer, creative, talented and so very Unique in her style and approach. My photos were absolutely stunning! Linnea manages to capture your essence and the beauty of who you are both inside and out, in every photo. These photos are timeless in their beauty and truly a work of art. Thank you Linnea for the amazing woman you are!" Victoria M. (SOURCE: Yelp)
About Linnea
Linnea Lenkus is a highly experienced, internationally published, professional photographer with worldwide commercial success. In a photography session with Linnea, clients receive the benefit of her artistic eye and her technical mastery honed over decades of photography experience. Her staff of specially trained photography experts oversees every step of the process to ensure her clients have a thoroughly enjoyable experience and receive stunning portraits of the highest quality.
###