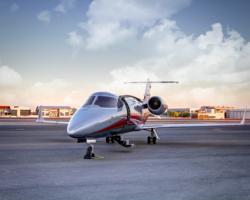 Ultimately, we selected the aircraft because of the advantages it provides our patients.
Scottsdale, Ariz. (PRWEB) October 10, 2011
Air medical transportation leader Angel MedFlight is setting a new standard in patient safety, comfort and care with the introduction of a Learjet 60 for dedicated air ambulance service. As Angel MedFlight's latest innovation, the Lear 60 offers patients a spacious cabin, a smooth, comfortable flight, and expedited travel time from Bedside-to-Bedside™.
"We are introducing the next generation of air medical transport," says Jeremy Freer, President and CEO of Angel MedFlight. "With a focus on patient care and safety, we continually look for opportunities to improve the air medical transport industry. The Lear 60 further elevates the level of service we can provide our patients."
A preferred aircraft among business travelers, the Lear 60 is revered for its performance, comfort and versatility. It climbs quickly to high cruise altitudes where it can fly above the weather. Its 2,700 statute mile range allows for fewer fuel stops, which minimizes travel time and reduces stress on medically fragile patients. Boasting the largest cabin in the Learjet line, the aircraft provides additional room for specialized patient care and medical equipment.
"Our decision to move to the Lear 60 was motivated by several factors," says Freer. "Ultimately, we selected the aircraft because of the advantages it provides our patients. The high-altitude capabilities and extended range allow for smoother flights with fewer stops, which is vital for the critically ill and injured patients we transport. The state-of-the-art avionics on this aircraft illustrate our commitment to safety."
The Learjet 60's wide-body design and stand-up cabin allow for maximum comfort during medical flights, which include two pilots, a critical care flight nurse, critical care flight paramedic, the patient, medical equipment, medications, luggage and typically one to two family members flying with the patient.
Angel MedFlight is one of the first organizations in North America to utilize a Lear 60 for dedicated air ambulance service. The aircraft is currently performing air medical transport missions both domestically and internationally.
About Angel MedFlight Worldwide Air Ambulance
Angel MedFlight, founded in 2007 by Jeremy Freer, is based in Scottsdale, Ariz. The company coordinates domestic and international air medical transportation services, commercial medical escorts, ground ambulance services and provides discretionary insurance benefit assistance. Angel MedFlight's One Touch Promise™ assures that every detail is handled and all resources are committed to guide the process from Bedside-to-Bedside™ with a compassionate team of experts in the fields of medicine, aviation, insurance law and case management. Angel MedFlight utilizes the services of sole and exclusive FAA F.A.R. Part 135 vendors, such as Aviation West Charters (License Number: 4WCA069N). Learn more at http://www.angelmedflight.com.
Media Inquiries:
Jenna Murray
Corporate Communications
(480) 559-6841
# # #