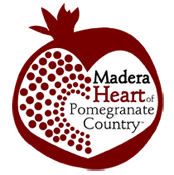 Madera, CA (PRWEB) October 08, 2011
The inaugural Madera Pomegranate Celebration and Festival is shaping up with numerous events taking place the week of Oct. 29 through Nov. 5.
Madera is known as the Heart of Pomegranate Country, as so many pomegranates are both grown in the region and come to Madera for Processing.
"The vast majority of the pomegranate products from recognizable brands you see on grocery store shelves use pomegranates either grown here or processed here. SO Madera really is the heart of pomegranate country," said Jarrod Lyman, chairman of the Madera Chamber of Commerce's Tourism Alliance Committee, which is putting the event on.
Events
The celebration week kicks off Saturday, Oct. 29 at Homegrown Cellars, a pomegranate farm and country store in Madera with the Pomegranate Run For Your Life 5K run/walk. Proceeds from the event will go to help fund a Christian orphanage for special needs children. To register for the race or for more information, call 559-664-8599.
Taking place later that night is the annual Madera Rotary Club Halloween Costume Ball and Dinner Dance. This year's theme is tied in to the Pomegranate Celebration to help kick things off. The event takes place at Hatfield Hall at the Madera District Fairgrounds, doors open at 6 pm. Call 559-674-5401 for more information.
Valley Pistachio Country Store, a popular spot off of Highway 99 featuring local produce will be offering pomegranate-themed appetizers Tuesday, Nov. 1. 559-674-0020.
Stiebs is also holding a recipe contest aimed at finding the best pomegranate inspired dishes prepared by professional chefs and home chefs as well as pomegranate drinks. The winner of each of the three categories will take home $500. To enter, go to http://www.stiebs.com/contest.html. Recipes will be judged Wednesday, Nov. 2 at the catering kitchen of Madera Community Hospital where finalists will be selected. Winners from that group will then be announced at the festival Nov. 5.
Also taking place Wednesday is a dinner at The Vineyard Restaurant in Madera. The Vineyard will be serving Martinis made with pomegranate-blossom infused vodka.
"Many of the beneficial compounds in pomegranates are concentrated in the blossom. By macerating them in vodka for three months, these compounds are released in to the vodka in your martini," explained Chris Mariscotti, owner of The Vineyard and committee member of the Madera Chamber's Tourism Alliance. "Finally, a healthy martini," he added with a laugh.
Those martinis will be complimented by a dinner with each course featuring pomegranates. The first course is Filo cups with whipped Brie, pomegranate molasses pistachios and pomegranate seeds, which are known as arils.
The second course is grilled Portobello mushrooms with pomegranate-mustard vinaigrette and pumpkin seed frisee and arugula salad.
The third course is pomegranate-glazed Mary's Chicken with beet risotto and watercress. The dinner is finished off with a desert consisting of pomegranate gelato with crème fraiche.
Pomegranate Festival
The week-long celebration wraps up Saturday, Nov. 5 with the first annual Pomegranate Festival hosted by the Madera Chamber of Commerce Tourism Alliance Committee. The event will be held from 10:00 a.m. – 4:00 p.m. at Appellation California Wine Tasting and Visitor Center located at Avenue 7 and Highway 99 in Madera. The festival will feature live music by the popular band Deja Blues, cooking demonstrations, booths, a kids area and more.
"It's going to be a lot of fun," said Lyman. "The Tourism Alliance Committee is teaming up with Twin Pomegranates Winery, one of our sponsors, to do a 'Pom-a-pult". Guests will have the chance to shoot pomegranates at a target, with bulls eyes getting prizes."
Local restaurants will be on hand selling dishes using pomegranates, local author Karen Adler will be showcasing a children's book telling the history of the pomegranate while vendors will be selling various pomegranate products.
"This even will definitely prove the versatility and health benefits of the pomegranate, as well as show why Madera is known as 'The Heart of Pomegranate Country'," said Lyman.
Major sponsors for this event are Stiebs and Stellar Distributing along with a host of other sponsors who are supporting this highly anticipated event.
For additional listing of sponsors and more information regarding the celebration and festival please visit http://www.pomegranatefestival.com or find them on facebook at http://www.Facebook.com/pomegranatefestival.
Jarrod Lyman
Director of Media
Yosemite Sierra Visitors Bureau
(559) 683-4636
###