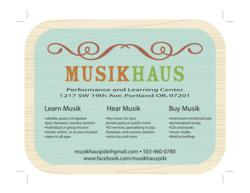 "The light and trees surrounding MusikHaus bring natural creativity to the school and my daughter loves it! I am so excited to see Musikhaus add this space to the Portland and Goose Hollow community."

Allison Couch, Pianist and mom
Portland, Oregon (PRWEB) October 10, 2011
Portland's most creative music school, Musikhaus, is opening its doors this Saturday, Oct 15, 2011. The entire metro region is invited to learn about the areas newest and most creative music school. The music school will teach primarily western steel, jazz guitar, Hawaiian ukulele and is developing new classes everyday. There's always something unique at Musikhaus and the school will focus on student's musical development from individual learning to group performance.
Musikhaus is a School of Music located in Portland, Oregon's Goose Hollow neighborhood. The school is just steps away from a coffee house Fehrenbacher Hof, a famous local restaurant and centrally located just steps off the Goose Hollow MAX line. The classrooms are vibrant and only enhance the creative mood in the music school. Parents may stay at the school during lessons or feel free to wonder around Goose Hallow's eclectic shops and restaurants. There are over 50 great boutiques and even a spa with in walking distance.
The Clark Family is excited about the school, when asked about the school they said, " When Chris and Stephanie approached us with the idea to begin their music school in our building, we knew it was a great match. After they told us the name, The Musik Haus, it was clear that they would meld great with our community. We can't wait to hear the pitter patter of feet up and down the stairs and the sound of strings in the air. Years ago, Sigrid (our mom) would practice her violin in the street level shop, Mother Goose Antiques. How apropos that a new brand of strings will be visiting us. Mom would be so happy."
Students as young as 4 can start single and group lessons. The school focuses on a wide range of musical styles in addition there are a range of kinder classes for children as young as 3 months.
In keeping with the German and Hawaiian themes Musikhaus will provide traditional Hawaiian drinks and German desserts during the grand opening and every child will receive a 10 minute free music assessment from the Director of Education, Chris Gabriel. The Music assessment will help parents identify their children's musical talents and help direct parents to choose what type of lessons will work best for their child's needs.
Chris Kalani Gabriel is the Creative Director at Musikhaus. Chris has been performing and teaching music to children and adults for over fifteen years. As a teacher of beginner and advanced musicians, his focus is on building a solid foundation in music theory and technique and teaching to mastery. Chris was born in Germany and discovered the guitar at an early age, his love of Hawaiian and country music are reflections of his summer visits to his grandparents in Hawaii and Bakersfield, California. Chris had over a decade of teaching experience and he is so excited to live his dream to open a space where he could use his unique experiences and abilities to help carry on these traditions.
Stephanie Hays Gabriel, co-founder and Administrative Director or Musikhaus, has a background in business, community organizing and arts planning. She has curated musical events like the annual Jazz series featuring local Jazz artists and has served as a board member for local non-profit PDX Pop Now! for several years. It has long been Stephanie's dream to bring her talents to the local community, bringing musical and creative spaces for people to gather and share experiences.
Chris and Stephanie's shared experiences over 20 years have made Musikhaus the natural next step. They met in a performing arts class at Hilo High School in Hawaii. After returning to Portland to finish their degrees, they moved to Germany and were very active in the musical Zeitgeist. After returning to Portland, they began writing, performing and recording in the band Super Zeitgeist, which released their first children's CD, "Super Fun Times" under the moniker SuperZ in 2009.
MusikHaus is starting on a great note, with a community OpenHaus October 15th as well as a new contract to offer group classes at the Multnomah Athletic Club starting in January 2012.
Musikhaus Grand Opening Details:
When: October 15th, 2:00-6:00 p.m.
Where: 1217 SW 19th, just steps of the Goose Hallow MAX line
What: Grand Opening - Free 10 minute music assessment - Free refreshments - Lots of fun!
###
The mission at Musikhaus is to keep traditional school music alive in our community through learning and performance.