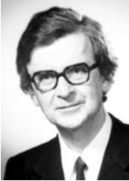 Lisbon, Portugal (PRWEB) October 13, 2011
The Instituto Gulbenkian de Ciência will be the host to a gathering of his Friends, Colleagues and Associates on the occasion of the Centennial of Niels Kaj Jerne, the eminent theoretician of modern immunology who obtained the Nobel Prize in 1984.
Proposed at the outset of Molecular Biology, Jerne's major contributions include the resurrection of selective hypothesis to explain antibody formation, a method of enumerating antibody producing cells, the suggestion of self-non-self recognition as the source of immune diversity and the network hypothesis suggesting that the immune system regulates itself via antibody/anti-antibody interactions.
The three-day event will take place in Lisbon and Oeiras Portugal at the Gulbenkian Institute on 27 to 29th November 2011. Two half-day sessions will reflect the scientific contribution initiated by Jerne and his many colleagues as well as their evolution into the future. An additional half-day session will focus on his impact on the lives of his associates and the community of Immunologists that he contributed to, in part by creating, founding and directing the Basel Institute for immunology.
Speakers are drawn from former members and associates of the Basel Institute for Immunology. The list of speakers includes: Lucien Aarden, Antonio Coutinho, Louis Du Pasquier, Dick Dutton, Howard Etlinger, John R. Kettman, Ivan Lefkovits, Vincenzo Miggiano, Chris Paige, Richard Pink, Jonathan Sprent, Theophil Staehelin, Suzy Swain, Harald von Boehmer, Matthias Wabl and several others.
Applications to attend the symposium can be found on the event website, http://www.jerne100.com. Because of the size of the venue, participation will be limited to a hundred scientists. Organizers of the Jerne100 meeting are: Antonio Coutinho, Louis Du Pasquier, and Ivan Lefkovits.
Instituto Gulbenkian de Ciência
The Instituto Gulbenkian de Ciência (IGC) was founded and is supported by the Fundação Calouste Gulbenkian (FCG) to carry on biomedical research and education. The IGC operates as a "host institution", offering excellent facilities and services to foreign and Portuguese research groups or individual scientists, in particular to young post-doctoral fellows who are expected to develop their projects and form their groups in complete autonomy.
The Institute's scientific interests are focused on the genetic basis of development and evolution of complex systems, especially organism-centered approaches in experimental models that include plants, yeast, flies and mice, and on the genetics of complex human diseases.
The IGC is located in the campus of Oeiras, on the Tagus bank, some 20km from Lisbon
# # #