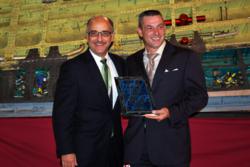 Innovation and creativity are what continue to drive me. It's exciting for me to come to work every day and create solutions for our customers.
Paterson, NJ (PRWEB) October 10, 2011
Odilo Vazquez, president and managing partner of F3 Engineering, was honored by the Small Business Administration (SBA) with the U.S. Small Business Administration's 2011 New Jersey Minority Small Business Person of the Year award. The ceremony, which took place at F3's headquarters in Paterson, marked the celebration of the 29th Annual National Minority Enterprise Development (MED) Week (September 25-October 1, 2011).
F3 Engineering was chosen for the award based on criteria that include the company's overall financial strength, growth in sales and profits, growth in number of employees, and participation in community and charitable events. SBA's New Jersey District Director, Alfred J. Titone, commended Vazquez for both the work that F3 does as well as the growth the company has achieved over the last few years.
"At a time where many companies are struggling, it is refreshing to see innovative small business owners like Odilo Vazquez creating and bringing skilled jobs in the engineering/technology sector right to Paterson," said Titone. "F3 Engineering is a prime example of how minority-owned small businesses are contributing to our economy. Today, Mr. Vazquez has a company that provides for the livelihood for 45 employees with a promise of more jobs to come."
Another important part of the company's success is its participation in SBA's 8(a) program. Under the program, minority-owned and disadvantaged businesses are eligible to receive sole-source contracts from federal government agencies for up to $4.5 million for services and $5.5 million for manufactured goods. Contracts higher than those amounts must be competitively bid on among 8(a) firms. Since participating in the 8(a) program, F3 Engineering has received millions of dollar in contracts from several federal agencies.
Today, F3 Engineering has 45 employees with sales in excess of $10 million. Later this year, F3 will be moving to a larger 50,000 square-foot facility in Paterson to accommodate the company's record growth. Vazquez has pledged to add another 100 jobs over the next five years.
"Innovation and creativity are what continue to drive me. It's exciting for me to come to work every day and to create solutions for our customers," stated Vazquez when accepting his award. "I think it is very important for our customers to know that we are not a one-dimensional company and that we have the capabilities and expertise to do custom design work. The goal has always been to grow and develop this company into a $20 million business."
Vazquez also recognized his employees stating, "It is because of every person in this room doing what they do every day that I can stand before you and accept this honor. This award is as much theirs and it is mine."
About F3 Engineering
F3 Engineering is a provider of technology, products and services in military and commercial mission-critical applications. With the resources and technical expertise to prototype and manufacture highly complex products, F3 brings technical, administrative and managerial resources together to provide a total program of complex engineering and contract manufacturing solutions. For more information on F3's dedication to providing technical guidance and support to its customers, visit http://www.f3engineering.com or call Ken Rosenbaum, General Manager at (973) 442-2290.
# # #