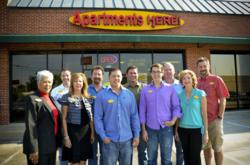 Austin,TX (PRWEB) October 13, 2011
Apartments HERE! is a free apartment locator service based in Austin Texas.
Apartment locating companies in Texas are completely free to the prospective renter, the apartment communities compensate the locator companies.
All of Apartments HERE! relocation specialists are licensed real estate agents specifically trained in apartment locating. Their online data base allows them the capabilities to search by area, price, schools, amenities or age of properties.
Apartments HERE! currently has 26 licensed agents.
Apartments HERE! is the brain child of Michael Reeh, the founder of Apartments HERE!
The companies online data base can provide photos, floor plans and prices whether you are next door or across the country.
Apartments HERE! just celebrated their 1 year anniversary.
# # #