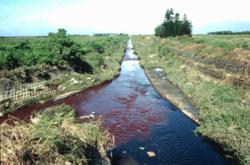 Life-Sciences.net - Environment Sciences
(PRWEB) October 10, 2011
The Environment Sciences category of the Magazine currently contains nearly 33,000 articles. A great part of these contributions derive from ca. 100 international scientific journals covering this applied life sciences.
The latest inclusions deal with the effects of urbanization and subsequent changes in land use in the Danshui River network in Taiwan. The expansion of irrigation following increases in the paddy rice area, caused a drop in baseflow of the Danshui River which may threaten the maintenance of the minimum flow required for the stream aquatic ecosystem. Another just recently published article reviews the interactions between environmental policy and eutrophication in the Mediterranean Sea. The very latest inclusion is a study on salinization of the Three Kettle Lakes in Southwest Michigan, USA. This article points to extremely elevated conductivity, chloride, sodium, and potassium levels in the urban lakes which are presumably caused by runoff of road salt deicers applied in the surrounding watershed.
The social network Life-Sciences.net has been established to discover and share scholarly and popular content in the basic and applied life and earth sciences including biology, agriculture, forestry, the environmental sciences, and the health sciences.
The site's content is divided into "Digg-style" "Popular" and "Upcoming" sections. While the very latest Environment content in the "Upcoming" section is rarely older than a few minutes, the "Popular" section contains articles submitted ca. 20-60 minutes ago. All categories feature RSS Feeds. At the same time, all categories and articles can be bookmarked with the AddThis Sharing buttons which include the increasingly popular Google+1 button.
The website newly features a "Top Content" sidebar which includes the most actively read and shared articles available on the site and the Google Translate gadget which supports translating Life-Sciences.net's content into over 50 languages. The site's own search function enables users to search for keywords or phrases. For every story displayed, it also suggests up to 10 related articles which are displayed sorted by relevancy.
Life-Sciences.net maintains the Twitter account @Life_Sciences_ which currently features 71,263 tweets and 1,075 followers. The Environment category is represented by Twitter's @EnvironmentMag with 10,671 tweets and 288 followers.
333