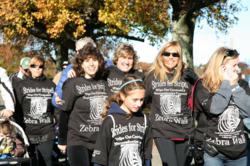 This needs to change. There are over 125,000 NET cancer patients living in the US right now. Early detection is the key to survival.
North Bellmore, New York (PRWEB) October 14, 2011
The Carcinoid Cancer Awareness Network, a non-profit patient advocacy group that provides support for cancer patients, has announced their 3rd Annual Zebra Walk and 8th Annual Gala. These are key events for generating important publicity and financial support used in the fight to cure carcinoid & other neuroendocrine cancers, such as the Neuroendocrine Islet Cell Cancer of the pancreas that claimed the life of Apple founder Steve Jobs.
"People who have come to the walk and/or the gala in the past have had a great time, while providing funding for some very worthwhile projects." says Maryann Wahmann, CCAN's Vice President. "They and others who support our events really help a lot of NET cancer patients."
Mrs. Wahmann is the winner of the 2010 Warner Advocacy Award and last year's guest of honor. The award commemorates the life and work of the late Monica Warner of the Carcinoid Cancer Foundation and is given annually to the individual who best embodies Mrs. Warner's spirit, passion and dedication.
A NET carcinoid cancer patient herself, Mrs. Wahmann has made it her mission to support and educate patients and families affected by neuroendocrine tumors (NETs). She founded CCAN in 2004 to help achieve this goal. She has led the Long Island, New York, NET support group since 2003. "Doctors often don't think of NETs when looking at symptoms and many patients go untreated for years or are told they have other problems. This needs to change. There are over 125,000 NET cancer patients living in the US right now. Early detection is the key to survival. Current research has uncovered several promising treatments."
For those who enjoy walking, CCAN's third annual "Strides for Stripes Zebra Walk," will kick off at 11AM on Saturday, November 5 at Eisenhower Park in East Meadow, New York. More people get involved every year and a crowd of over 2,000 is anticipated. Each walker gets a tee shirt, pedometer and snacks. Coffee, snacks, sandwiches and other goodies will be available and there will be other activities as well. Register yourself or a group at http://www.firstgiving.com/CCAN.
CCAN's 8th Annual Dinner Dance will be held on Saturday, November 12, 2011 from 6 to 11 pm at the Sterling located at 345 Hicksville Road, Bethpage, NY 11714. Tickets cost $89 each. A special award presentation, dinner, DJ and dancing, open bar, awesome raffle prizes and a silent auction are the highlights of the evening. "We started a couple of years ago helping out a handful of patients." says Maryann. "In 2011 we have the opportunity to help hundreds, or even thousands. It all depends on getting the publicity and funding we need." Register at http://www.netcancerawareness.org.
Want to help but can't get to the events? CCAN is a 501(c)(3) charity and your donations are tax deductible. Visit http://www.carcinoidawareness.org to register for any event or to make a donation. All proceeds go to fight carcinoid/NET cancer. Call CCAN's office at 516-781-7814 or email them at carcinoidaware(at)aol(dot)com for more information.
# # #