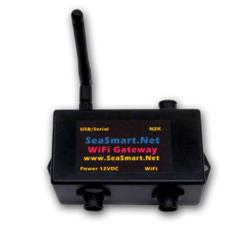 "Live or Logged data can be remotely accessed over Wi-Fi link via Internet"
Brookings, OR (PRWEB) October 12, 2011
In a stunning achievement, Chetco Digital Instruments' new SeaSmart.Net™ product has created an onboard Wi-Fi environment that seamlessly unites all available electronic and analog data into portable displays that can be customized via Web pages and shown on any browser-enabled device, including iPads and Smartphones.
By combining the enhanced SeaSmart.Net™ Wi-Fi adapter with its open source Web protocol, Chetco Digital Instruments has made wireless bridging of independent NMEA 2000 networks a reality. A SeaSmart.Net™ device and an iPad or Smartphone is all that is needed to access and monitor vessel data.
The new release of the Chetco Digital Instruments marine network interface now includes support for bidirectional transfer of NMEA 2000™ PGNs using the company's open protocol. SeaSmart.Net™ serves as a gateway between the previously closed architecture of NMEA 2000™ and the more easily transported protocol developed by CDI. In addition, SeaSmart.Net™ is compatible with third party browser applications like Safari and many marine software applications, including Rose Point's Coastal Explorer™.
"SeaSmart.net now allows Coastal Explorer™ to run on any Wi-Fi equipped Windows™ PC," said Joe Burke, Chief Technical Officer of Chetco Digital. "We were able to add support for the navigation program by using the existing Plug-in architecture."
SeaSmart.Net™ Wi-Fi acts as a data server for NMEA 2000 information, supporting multiple clients with a single wireless device. Standard TCP and UDP networking protocols allow SeaSmart.net to share data between multiple PCs and handheld devices such as iPads and Smartphones. Wireless bridging goes beyond just vessel-based applications as it also includes full internet connectivity allowing client's access using Web-based technologies.
SeaSmart.net works by converting the raw NMEA 2000™ data stream into a routable TCP/UDP protocol that can be easily transported over internet equipment. Adding a second SeaSmart.net adapter at the other end allows the protocol to be converted back into NMEA 2000™ format so compatible equipment can display it. In one example, a NMEA 2000™ weather station mounted up on a masthead can wirelessly transmit down to the helm station, where standard GPS equipment can utilize the information while simultaneously sending it out over the internet to additional clients. Standard 802.11 b/g signal amplifiers can boost the range allowing penetration through many structures.
"It is now possible for one vessel to directly monitor NMEA 2000™ traffic from another vessel up to 2 km," noted Burke.
SeaSmart.net supports all PGNs and has the ability to pre-filter to reduce network loading. The built-in Web server hosts a number of preloaded Web pages allowing browser-based clients to view live information. Users can also create their own themed pages and these custom Web pages can be designed and loaded to create virtually unlimited applications. One developer is using SeaSmart.Net™ Web services to plot and analyze performance during sailboat races.
"In a real-time environment it is often not possible to immediately analyze all available data. Also, since the Wi-Fi signal is often only available through the user's SmartPhone and limited to within 10 miles of the nearest cell tower, the vessel could be out of range," noted Burke. "That's why another enhancement to the SeaSmart.Net™ product family is the addition of a data logging module that uses off-the-shelf USB memory sticks. Over 20 days of continuous data logging of all NMEA 2000™ traffic is possible with a single 4 GB memory stick.
"The live or logged data can be remotely accessed over Wi-Fi link via Internet connection once the vessel is within range," Burke added. "A typical application would be to log vessel position, weather, and performance data while at sea and then download and analyze it once back at port."
What's truly amazing is that all of this capability comes in a compact size easy to install on any vessel. With a footprint of only 4" X 2" X 2" and a power draw of less then 500mA, the water-resistant SeaSmart.Net™ Wi-Fi adapter is perfect for sailboats, sport fishing skiffs and other small craft that demand compact low-impact equipment. Again, a SeaSmart.Net™ device and a iPad or Smartphone is all that is needed to access and monitor vessel data.
In addition SeaSmart.net 0pen protocol has allowed developers to create new applications not previously possible. In the case of one developer who is creating analysis tools for sailboat racing, the device's data logging of vessel position and weather information allows later overlay of the information on a map with current data to determine effects on race maneuvers. A key requirement was a minimal footprint and enough data storage to record the entire 38 hour event. The SeaSmart.net Protocol made it easy for the developer to create customized Web pages to plot live data on a iPad as well as post processing of the logged data on an internet server.
"As more developers adopt our open protocol, we are seeing some very unique applications" noted the Chief Technical Officer for Chetco Digital Instruments. "Developer feedback has allowed us to improve on both the protocol and adapter firmware to give them what they have asked for."
SeaSmart.Net™ Wi-Fi adapters can support both NMEA 2000™ and NMEA 0183™ interfaces simultaneously via two built-in data ports. This allows the adapter to provide legacy NMEA 0183™ WiFi connection to applications such as Rose Point's Coastal Explorer™ and iNavX™. NMEA 0183™ data can be also viewed on the device's embedded Web pages. A variant of the SeaSmart.Net™ Wi-Fi adapter can provide translation of NMEA 2000™ GPS/AIS/Nav data to NMEA 0183™ for native use by applications like iNavX, Navionics, and others.
"SeaSmart.Net™ covers all the bases when used in a marine network" concluded Burke.
SeaSmart.net products are available directly online at http://www.seasmart.net and http://www.digitalmarinegauges.com . Pricing starts at $625 for the basic Wi-Fi unit and an additional $75 for the data logging adapter. Volume and kit pricing is available.
For more information on SeaSmart.Net™ and other Chetco Digital Instruments products, see our Web site at http://www.digitalmarinegauges.com, email sales(at)chetcodigital(dot)com or call 1-541 469 4783.
###