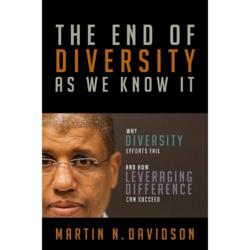 Diversity is capital. Invest it wisely. Diversity is an opportunity. Don't miss it.
Diversity is difference. Leverage it.

(PRWEB) October 11, 2011
"A money pit." "A waste of time." "Missing the point entirely." Many HR managers burdened by diversity efforts may inwardly voice such criticisms. But so does one internationally recognized diversity advocate.
"When it comes to diversity, there is too little real change in the culture and climate of our corporations and institutions," says Martin Davidson, PhD, author of The End of Diversity as We Know It: Why Diversity Efforts Fail and How Leveraging Difference Can Succeed (Berrett-Koehler Publishers, October 2011).
"The traditional approach to diversity is built for short-term changes—a mindset of 'let's increase the numbers' that has a limiting effect," Davidson explains. "In fact, most of the time, that mindset causes failure. Recruits leave. The process continues. And nothing changes."
After years of research, including conversations with C-suite executives, middle managers, and other employees, Davidson has come to some bold conclusions, which he will present at the Society for Human Resource Management's Diversity and Inclusion Conference and Expo October 24 at 3:30 p.m. in Washington, DC:

Traditional diversity programs are a money pit. Each year, corporate America spends millions, perhaps billions, of dollars in diversity training that nets no meaningful results. Instead, attrition statistics show, ill-equipped companies become revolving doors for women and minorities, who may feel their difference is not valued.
Focusing on the numbers is a waste of time. Diversity in and of itself is not a goal. It's a tool for corporate success.
Current definitions of diversity miss the point entirely. Limiting recruitment to superficially diverse groups ignores the far more enriching opportunity to capitalize on differences in employees' lifestyles, economic backgrounds, and viewpoints.
"How are we, as co-workers and as people, different from each other?" asks Davidson. "And how can we use that difference to enhance our company or organization? Until we approach diversity from that perspective, diversity efforts may well be meaningless."
Martin N. Davidson is Associate Professor of Leadership and Organizational Behavior at the Darden Graduate School of Business, University of Virginia, and recently served as Associate Dean and Chief Diversity Officer. His work has been published in the Wall Street Journal, the Washington Post, and Harvard Business Review, Administrative Science Quarterly, Journal of Personality, and the Journal of Conflict Management; he is a popular guest on National Public Radio. An active consultant, he works with Fortune 100 firms like Merrill Lynch (where he held the title of External Advisor for the Office of Diversity), AT&T, Credit Suisse, Intel, and Hewlett-Packard. The End of Diversity as We Know It is his first book.
The End of Diversity as We Know It: Why Diversity Efforts Fail and How Leveraging Difference Can Succeed will be available for sale for the first time at SHRM's Diversity and Inclusion Conference and Expo, October 24-26, Washington, DC. It is also possible to pre-order it at amazon.com, barnesandnoble.com, 1800CEORead.com, or your local bookstore.
###