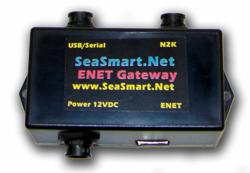 "This new platform brings LAN/Cloud computing to marine systems"
Brookings, OR (PRWEB) October 11, 2011
Get immediate sonar, engine gauge, weather and GPS readouts from anywhere on your vessel with Chetco Digital Instruments' latest wireless network products for use with iPad, iPhone, Smartphones and PCs thanks to the Wi-Fi power of the company's breakthrough SeaSmart.Net™ technology.
Chetco Digital Instruments, an innovative marine instrumentation company which specializes in analog to digital gauge and switch conversion devices, will have its full line of both new and existing products on display at the Fort Lauderdale Boat Show Oct. 27-31. Featured will be the new SeaSmart.Net™ unit that Chetco Digital's Chief Technical Officer Joe Burke says has created a platform that bridges NMEA 2000™ communications to modern-day digital applications with simple plug and play ease.
"This new platform brings LAN/Cloud computing to marine systems monitoring and creates an open protocol out of the closed architecture of NMEA 2000™," stated Burke, who began his digital career as an Apple developer. "All our new wireless products come with 802.11 b/g Wi-Fi interface and built in Web server. Many marine software applications, including Rose Point's Coastal Explorer™, provide native support for our open protocol. There is no need for a dedicated 'app', our software works on any Smartphone or tablet's Web Browser."
Chetco Digital Instruments manufactures easily customizable gauge and switch interface products and touchscreen LCD displays that create a virtual dashboard in the tightest of spaces and -- now -- anywhere on your vessel. Users now have a choice of Web-based display or using CDI's proprietary vDash software to select (and design) multiple pages of vibrant screens. Instrumentation data can be displayed from any NMEA 2000™ source or from the company's own products such as SeaGauge, which converts analog gauges to compatible digital format.
"Users can design their own display views using simple HTML programming or choose from a range of predefined themes the company provides, such as our popular VDO-style gauges," added Burke.
CDI products have been installed in a myriad of marine applications from luxury yachts and commercial fishing vessels to sport fishers and racing boats.
"With this browser-based push technology, users can view real-time data as well as log this data for later review on a PC using our vDash software," commented Steve James, VP Marketing for Chetco Digital Instruments. "Over 20 days of continuous data logging can be downloaded onto a 4 GB memory stick."
The company will also be displaying the Apogee Power line of Lithium Iron Phosphate (LiFePO4) batteries for use as power backup for its gauge and display systems. All products can be viewed at Booth# 6137.
Contact:
Joe Burke, Chief Technical Officer
541/496-4783 joe(at)chetcodigital(dot)com
###