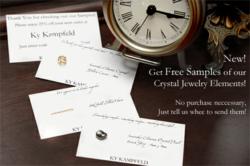 It's challenging to show the quality of a fashion item through just a picture online," - Ky Feldkamp
Clinton, MI (PRWEB) October 11, 2011
Beginning October 2011, the online fashion jewelry boutique, Ky Kampfeld, who specializes in crystal jewelry, will offer those who wish a free sample of their jewelry materials, designed to show the quality of their jewelry, without the commitment of a purchase.
Inspired by the abundance of free samples in the cosmetic industry, Ky Kampfeld breaks new ground by offering samples of the materials used in making Ky Kampfeld jewelry.
"It's challenging to show the quality of a fashion item through just a picture online," said Ky Feldkamp, CEO of Ky Kampfeld. "Even a video has its limits. I wanted the customer to be able to see with their own eyes the quality of the Swarovski crystal elements, the beautiful 14k gold filled chain. There's nothing more vivid than seeing something with your own eyes, holding it in your hands. It dawned on me that a free sample would be a great reassurance of our quality in a world full of photo enhancements."
The samples consist of cards featuring a small crystal, gem, or piece of metal used in making the jewelry. One such piece is a Swarovski Elements Crystal bead, with "Golden Essence, 8mm" noted on the card. Another includes links a 14k gold filled chain, which is a small portion of the actual chain used in Ky Kampfeld necklaces.
Ky Kampfeld offers a variety of jewelry. Swarovski elements crystal are featured prominently, combined with either sterling silver or 14k gold filled settings. Rose quartz, jade, onyx, amethyst, clear quartz, and smoky quartz are also featured. Later this year Ky Kampfeld plans on expanding their line to include lapis lazuli, carnelian, lace blue agate, and glass cat's eye. Set in simplistic settings using quality and unexpected materials, Ky Kampfeld offers even more choice in the world of fine fashion jewelry.
###