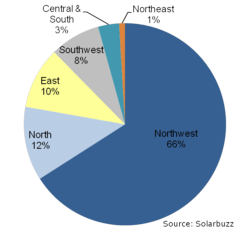 The earlier-than-expected release of the national PV FiT policy has opened the door to explosive growth in project development activities in China," said Ray Lian, Analyst at Solarbuzz. "The result is more tenders and an acceleration of PV orders...
San Francisco, CA (PRWEB) October 10, 2011
The release of a national photovoltaic (PV) Feed-in Tariff (FiT) policy in July has resulted in a significant increase in PV project development activity in China. According to the first edition of the Solarbuzz China Deal Tracker, as of the end of September, the non-residential PV project pipeline in China stands at 14 GW.
Solarbuzz has identified 1,007 non-residential projects in China that are installed, being installed or in the development phase. Development-phase projects include tender-awarded, going through tender process, or planned without tender.
The Northwest region, where both intense solar radiation and vast amounts of land are available for utility-scale projects, currently accounts for 66% of the total China project pipeline. The top five province pipelines in megawatt terms are Qinghai, Gansu, Ningxia, Inner Mongolia and Sichuan.
Non-residential PV project activity, characterized by large project sizes, is now evident across 29 Chinese provinces. Projects above 1 MW are the major segment of the market in MW terms, accounting for 707 of the projects being monitored. The fast-developing non-residential segment has created an important and growing opportunity for project developers, as well as engineering, procurement and construction (EPC) companies. Most leading project developer groups are state-owned enterprises (SOEs), with the top 10 companies accounting for 9.7 GW of the total pipeline.
The collapse in factory-gate module prices in 2011 has enabled projects to provide reasonable internal rates of return (IRR), considering the CNY1.15/kWh tariff. Installed system prices of ground-mount projects above 10 MW are now below CNY15 per watt and decreasing.
"The earlier-than-expected release of the national PV FiT policy has opened the door to explosive growth in project development activities in China," said Ray Lian, Analyst at Solarbuzz. "The result is more tenders and an acceleration of PV orders. In 2011, the PV market in China will exceed 1.6 GW, representing over 230% growth from 2010."
Strong growth in domestic demand provides great opportunity to Chinese module suppliers. For those projects that have selected their module suppliers, the top four suppliers in MW terms are Suntech, Yingli, GD Solar and Shanghai Aerospace Automobile Electromechanical. The leading inverter supplier is Sungrow Power Supply.
The Solarbuzz China Deal Tracker reports project activity in the non-residential (including utilities) segment. The parameters in the database for each installation include project name, project developer, owner or host, system size (MWp and average annual MWh), installed system pricing, system type (ground mount, rooftop, BIPV, off-grid), province, city, exact location, project progress, incentive program, installer, module and inverter suppliers, module type, project developer and installer contact details.
For more information or to order the Solarbuzz China Deal Tracker, contact us at one of our seven global locations, email us at contact(at)solarbuzz(dot)com, or call Charles Camaroto at 1.516.625.2452 for more information.
About Solarbuzz
Solarbuzz, part of The NPD Group, is a globally recognized market research business focused on solar energy and photovoltaic industries. Since 2001, Solarbuzz has grown its client-base to include many of the largest global PV manufacturers, major investment banks, equipment manufacturers, materials suppliers, hedge fund companies, and a vast range of other multi-nationals. Solarbuzz offers a wide array of reports, including Marketbuzz, an annual global PV industry report, and Solarbuzz® Quarterly, which details both historical and forecast data on the global PV supply chain. The company's research also provides annual downstream PV market reports by region for Europe, Asia Pacific and US markets. In addition, Solarbuzz.com is a recognized and respected online resource within the solar industry. For more information, visit http://www.solarbuzz.com or follow us on Twitter at @Solarbuzz.
About The NPD Group, Inc.
The NPD Group is the leading provider of reliable and comprehensive consumer and retail information for a wide range of industries. Today, more than 1,800 manufacturers, retailers, and service companies rely on NPD to help them drive critical business decisions at the global, national, and local market levels. NPD helps our clients to identify new business opportunities and guide product development, marketing, sales, merchandising, and other functions. Information is available for the following industry sectors: automotive, beauty, commercial technology, consumer technology, entertainment, fashion, food and beverage, foodservice, home, office supplies, software, sports, toys, and wireless. For more information, contact us or visit http://www.npd.com and http://www.npdgroupblog.com. Follow us on Twitter at @npdtech and @npdgroup.
Solarbuzz and Marketbuzz are registered trademarks of The NPD Group.
Media Contact:
Stacey Voorhees-Harmon
SAVVY Public Relations
Phone: 925-336-9592
E-mail: media(at)solarbuzz(dot)com
###