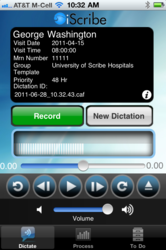 Lake Forest, IL (PRWEB) October 11, 2011
Last month Scribe announced the release of its "Next Generation" mobile dictation app "Scribe Mobile". This app was originally designed to work in conjunction with the Scribe medical dictation and transcription platform. Based on a strong response from smaller medical groups that simply want to dictate voice files and have secure access to the voice files, Scribe is now announcing a "Lite" version of Scribe Mobile.
Scribe Mobile Lite will allow users to dictate voice files on the iPhone, iPad, and iPod Touch. Files are securely uploaded wirelessly via WiFi or 3G to the Scribe data center and available for secure access via FTP.
"While we have over 30,000 health professionals using Scribe technology today, Scribe Mobile Lite will be available to those not currently on our platform," says John Weiss, Scribe Healthcare Technologies Vice President. "Scribe Mobile Lite is an inexpensive way to convert your iPhone into a mobile dictation device and transfer files for transcription. This is ideal for small physician practices that transcribe referral letters and other patient information."
Scribe Mobile Lite provides core functionality:

Save money by using your existing device for dictation
Upload files as you dictate or in batch
Upload wirelessly with WiFi or 3G
Reduce your documentation lead-time
Scribe Mobile is easy to use. Simply open the app, select the patient and dictate. Rewind, playback, fast-forward, and add additional dictation are included. Files can be transferred immediately without tethering the device or queued for transfer later. After transfer Scribe Mobile provides a unique dictation id for tracking. Voice files are stored on the device for one week by default.
Scribe Mobile can be downloaded for free on iTunes and requires the user to have a Scribe account.
http://itunes.apple.com/us/app/scribe-mobile/id391007459?mt=8
About Scribe Healthcare Technologies, Inc.
Scribe Healthcare Technologies is a privately-held healthcare technology company based in the Chicago area. The company has developed a proprietary "Cloud-based" platform that centers on medical documentation solutions to deliver physician narrated content to the electronic medical record. Scribe's platform includes complete solutions for dictation, transcription, voice recognition, document management, EMR-Lite, healthcare information exchange, and reporting with data analytics. Scribe offerings include both computer and mobile solutions.
Scribe serves more than 25,000 users. Business partners and resellers include consulting firms, transcription companies, and business process outsourcers. Additional information is available at http://www.scribe.com.
###