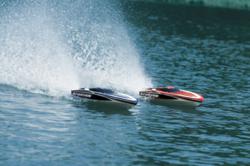 I had a technology class when I was in high school, but what these kids are doing is really amazing.
Grandville, Michigan (PRWEB) October 13, 2011
The Grandville Academic Team Boosters proudly announce the 3rd annual Great American River Race, the fastest autonomous boat race in America.
On Saturday, October 22nd, history will be made in Grandville, Michigan. Twelve high school teams will compete in the 3rd annual Great American River Race. Race sponsors expect the fully autonomous boats in this year's race to break all prior speed records, and several boats could finish the race with top speeds of more than 50mph.
This year's race is sponsored by TRAXXAS, the fastest name in RCTM. Boat modified and programmed by advanced robotics teams from Grandville High School will compete on a three mile course in a race put on by the Grandville Academic Team Boosters and the Michigan High School Robotics Association. New equipment and more advanced electronics will allow boats to reach peak speeds of more than 50mph, and a new race layout will also make more exciting for spectators, as they will be able to see the entire race course from an elevated observation deck.
The Great American River Race sets a new standard for high school robotics events, raising the bar to a level more typical of college competitions. Fully autonomous, computer controlled boats will navigate a course dealing with current, wind, and natural obstacles. The race is one of only three like it in the world, with the other annual events taking place in Germany and Japan. The boats competing in next Saturday's event include advanced components sourced from around the world. This year's boats represent a significant step forward for the teams, as new race sponsor TRAXXAS - the fastest name in RCTM - has provided the teams with the world's fastest consumer RC boat as a base for their racers. Competition boats are 48" long, and are powered by a massive brushless, water-cooled engine. Boats navigate the 3 mile race course using highly accurate on-board global positioning systems provided by Garmin. The race boats are controlled by a new custom 32bit processor platform running at 1000MHz, with programming developed by Grandville High School students. These are advanced computing machines on the water, with each boat capable of running more than a dozen concurrent programs to gather and process navigational and propulsion data. They include unique electronic control systems components developed and built specifically for this race by Custom Electronics, a Grandville-based manufacturer of engineered components.
This year's race will be held at Kent County's Millennium Park in Grandville, Michigan. Time trials will begin at 10am on Saturday, October 22, with the race running at 11am.
Nearly 70 high school students have spent more than seven weeks modifying, programming, and testing the boats for Saturday's race. Next Saturday, the third running of the Great American River Race will demonstrate just how far high school students can go.
Grandville Public Schools has been a leader in educational robotics for more than 10 years. Beginning with one high school robotics team in 1998, the district's program has now grown to include more than 30 teams. More than 500 students, from fourth through twelfth grades, participate on Grandville robotics teams, designing, building, and programming robotics for competitions around the world. The Grandville High School robotics team - the RoboDawgs - entered its 14th year of competitive robotics in 2011.
Contact:
Doug Hepfer, Grandville Academic Team Boosters
(616)540-3239
Michael Evele, Physics Department, Grandville High School
(616)254-6483
###