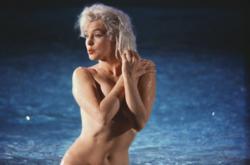 This 12 photograph collection is now being displayed at Duncan Miller Gallery in Los Angeles.
Los Angeles, CA (PRWEB) October 12, 2011
The world was unprepared for the moment when Marilyn Monroe jumped in the swimming pool in a flesh-colored bikini and came out of the water au natural.
She was radiantly smiling and in her element: the sex goddess, posing for eternity. Two months after celebrating her birthday on this film set, Marilyn died.
These legendary images that survived (Marilyn would cut up the negatives she didn't like) have been displayed in New York, China, Bulgaria, Salzburg, Berlin, Miami and London. The photographs are now available in Los Angeles at Duncan Miller Gallery.
About the photographer
Although later becoming a New York Times best-selling author and director of fifteen films, Brooklyn-born Lawrence Schiller started his career as a photojournalist for Life, The Sunday Times, Time, Newsweek and The Saturday Evening Post.
About the gallery
Duncan Miller Gallery specializes in contemporary and 20th Century fine art photography. See http://www.duncanmillergallery.com.
# # #