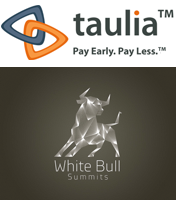 We are committed to addressing the gaping inefficiencies in the financial supply chain and excited the Taulia Invoicement® Suite has been so well-received in the market, having signed ten new large customers year to date.
San Francisco, CA (PRWEB) October 10, 2011
Taulia, Inc., the leading cloud-based dynamic discounting solutions provider for SAP®, today announced it was named a Longhorn winner for the 2011 Bully Award honoring Europe's leading technology, media and telecommunications (TMT) companies as presented by White Bull Summits (http://www.whitebull.com), champions of the European innovation ecosystem.
A total of 60 European companies were named as finalists for the 2011 Bully Award, and the deserving winners were selected from a pool of entries that included hundreds of nominated European TMT companies.
The winners fall into three categories:

Yearlings: firms that seek or have received angel/seed rounds or equivalent; classic start-ups
Young Bulls: firms that seek or have received Series A financing; early stage companies
Longhorns: post Series A firms; growth stage companies
"The Bully Award winners were selected for innovation and values of excellence in the TMT sector. They have been recognized as a leader in their field, with a bright business proposition and meaningful market strategies, driven by a rich understanding of customer needs and technological solutions," stated Farley Duvall, Founder and Chairman of White Bull Summits.
"We are honored to be named a Longhorn winner and appreciate the industry acknowledgment of our hard work and success over the past two years," said Bertram Meyer, CEO of Taulia. "We are committed to addressing the gaping inefficiencies in the financial supply chain and excited the Taulia Invoicement® Suite has been so well-received in the market, having signed ten new large customers year to date. We are pleased that the prestigious White Bull organization has further validated our success with this Bully award recognition."
Taulia provides dynamic discounting solutions and supplier portals to Global 2000 companies. With the Taulia Invoicement® Suite, these large organizations can save millions of dollars annually by enabling dynamic payment terms and on-demand payment acceleration for their suppliers, in return for additional discounts. For suppliers, the Taulia Supplier Portal offers the ability to accelerate invoice payment on-demand, thus eliminating the need for costly receivable financing or credit card borrowing. The supplier portal also reduces collection cost and removes the need for inquiries by providing 24/7 visibility and comprehensive self-services - all free of charge.
"The White Bull judges very carefully reviewed seed-stage, early-stage and growth-stage companies, and selected the winning companies they believe have demonstrated clear potential for further growth and a high probability for exit in the next few years," added Duvall.
White Bull has a successful track record in identifying Europe's leading TMT companies. Eight of the 2010 Bully Award winners identified by White Bull were acquired in the past year including BuyVIP (acquired by Amazon), JayCut (acquired by RIM), Q-go (acquired by RightNow Technologies), Severa Corp (acquired by Visma Group), SunglassesShop.com (acquired by Glasses Direct), Ubitexx (acquired by RIM), Vilant Systems Oy (merged RFID activities with Swisscom Auto-ID Services AG), and WatchMouse (acquired by CA Technologies).
For a complete list of the 2011 White Bull Bully Award winners, please visit http://www.whitebull.com/latest.
About Taulia
Headquartered in San Francisco, California, Taulia is a solution provider specializing in Software-as-a-Service (SaaS) solutions that help large organizations reduce their total spend and achieve double-digit returns on their cash positions by optimizing their financial supply chain and payment terms with their suppliers. The Taulia Invoicement® Suite offers a cloud-based dynamic discounting solution and supplier portal. Taulia has offices in San Francisco, New York, Raleigh and Düsseldorf (Germany). Its list of customers includes Coca-Cola Bottling Co. Consolidated, Pfizer, John Deere and other Fortune 500 companies from various industries. For more information, visit http://www.taulia.com.
About White Bull
White Bull's aim is not simply to produce events. White Bull is here to help companies succeed. Built upon the extensive knowledge and network of its founders and advisers, and in the spirit of the "wily beast" that lives inside all successful businesses, White Bull offers a community that brings together the best and the brightest – Europe's top technology and media leaders, entrepreneurs, innovators, investors, and visionaries. White Bull will respond to the needs and wants of the Technology, Media and Telecommunications (TMT) sector, while providing a forum for ongoing discussion. For more information, please visit White Bull at http://whitebull.com, on Facebook or follow White Bull on Twitter @whitebullsummit.
###