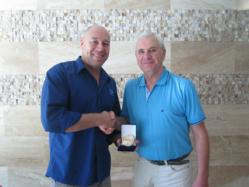 Blown away, surprised and motivated by the award for promotion & development of Scenar Therapy & Scenar Devices.
Sydney, Australia (PRWEB) October 11, 2011
The medal was given to Mortensen by Jakov Grinberg; Director General of OKB RITM at a ceremony attended by representatives of 25 countries working with the innovative medical technology; Scenar ®.
From a background of physical therapy, Chris Mortensen has earned an enviable reputation for outstanding results using Scenar ® Therapy as a stand-alone treatment modality for pain.
Scenar ® is a hand-held Medical Device that delivers electrical stimulation through the skin to trigger the body's own healing process. It can treat a wide range of issues, including chronic, acute and post operative pain. The Scenar ® Medical Device is non-toxic and non-invasive and available for licensed distribution around the world from RITM Russia, RITM America, RITM Canada, RITM Australia & RITM Europe.
###