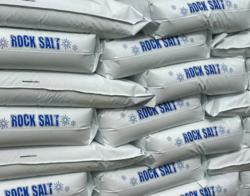 During November and December we envisage high demand with shortages of brown rock salt.
(PRWEB UK) 12 October 2011
Since rocksalt.co.uk started their summer campaign in July, there has been a steady stream of customers taking advantage of pre-season prices. We are now moving loads all over the country and into Ireland as cold weather is predicted early again this year and merchants are stocking up in anticipation of poor weather and steeper prices. The summer pre-season prices helped get stocks moving well and we would urge anybody looking for salt to buy before the winter prices kick in at the end of October.
During November and December we envisage high demand again with shortages of the UK brown rock salt, with councils taking priority with any snow or ice forecast. White salt is still going to be available, however it is much more expensive than brown rock salt but is ideal for more public places where it will leave less residue if trailed indoors.
Take care when buying salt as with previous years there are still suppliers mixing in sand and grit with brown salt. All Derbyshire Aggregates' rock salt available through their specialist rocksalt.co.uk website is pure crushed salt. Whether you buy white or brown salt we do not mix anything into it.
###