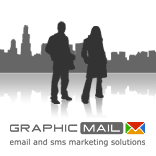 CASL is one of the most restrictive pieces of anti-spam legislation in the world and businesses that are barely operating under CAN-SPAM requirements as it is are certainly going to have to make a few changes to comply
(PRWEB) October 14, 2011
Email and mobile marketing service provider GraphicMail is currently auditing its anti-spam practices to meet the stringent demands of the new Canadian Anti-Spam law (CASL) coming into effect as early as December 2011.
GraphicMail is addressing its Canadian email and mobile permission standards as CASL will be forcing marketers to apply opt-in based systems, or face substantial legal liabilities. Since the implementation of CASL marks the first time US email marketers could be punished under another country's anti-spam legislation, GraphicMail is placing emphasis on the revisal and refinement of its policies. The company is one of the few major email service providers operating in Canada and always ensures that it is on top of international spam laws and regulations since it is represented in 17 different countries.
Canada's Parliament has placed new and significant obligations on businesses that communicate and market electronically, by creating an express consent regime that applies to almost all emails and other electronic messages sent for commercial purposes.
The CASL is stricter than existing requirements under Canada's privacy law, which generally permits opt-out consent only for marketing messages and allows for reliance on implied consent in some circumstances. CASL's anti-spam provisions will have pronounced effects since it extends to various forms of electronic communication; such as text messages, instant messaging and social media messaging - unlike the US CAN-SPAM Act which applies only to email marketing.
The new rules will require express opt-in consent from recipients. Exemptions to the opt-in requirement exist under certain circumstances of implied consent; such as if there is an existing business relationship or legitimate non-business relationship (such as family relations). In most cases, this implied consent will remain valid for two years only, after which the sender must gain affirmative consent.
CASL imposes significant penalties for offenses regarding the use of false or misleading subject lines and illegitimate email address gathering. The new laws include monetary penalties of up to US $10,000,000 for corporations and US $1,000,000 for individuals. Additionally, consumers and businesses will be able to commence enforcement proceedings and recover damages (including statutory damages of up to $1,000,000 a day).
To convert to CASL, businesses will need to review their lists and remove any address for which there is no affirmative opt-in to receive email. Privacy policies and form collection on websites should be updated to ensure proper consent. Legitimate American marketers are however ready for the law, since US businesses that are CAN-SPAM compliant - which is a necessity - will most likely by default be CASL compliant. GraphicMail ensures compliance with US CAN-SPAM requirements as well as the EU Privacy Directive, and is now also incorporating CASL into its standards. For simply achieved compliance, GraphicMail has an on-site complaints centre where anyone can report the abuse to their software, and their features make it easy for users to add opt-in or double opt-in email mechanisms to their subscription process
"At this point most people probably aren't aware of the new law, which means they won't be prepared for it. CASL is one of the most restrictive pieces of anti-spam legislation in the world and businesses that are barely operating under CAN-SPAM requirements as it is are certainly going to have to make a few changes to comply." Nick Eckert, GraphicMail CEO
GraphicMail is a hosted email marketing solution which lets users design beautiful emails, manage contact lists and track their campaign performance. It is available in 10 languages and is represented by over 17 offices globally. Follow GraphicMail on Twitter, Facebook and their email marketing blog. Contact: Barbara Ulmi, GraphicMail Marketing Manager, barbara(at)graphicmail(dot)com
# # #