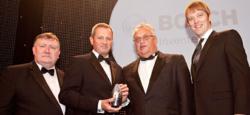 This has been a year of phenomenal growth for proAV, which is reflective of our ability to capture novel technologies and design award-winning solutions around them.
Egham. Surrey (PRWEB UK) 11 October 2011
proAV's revolutionary 3D MATTU project has won this year's AV Magazine award for Education Project of the Year at a gala ceremony at the Hilton on Park Lane.
The high profile project at the Minimal Access Therapy Training Unit features ground breaking High Definition, 3D imaging and fibre optic connectivity between the Royal Surrey County Hospital and the adjacent centre of teaching excellence that's recognised internationally for its surgical innovation.
World class display, projection and conferencing systems were installed throughout MATTU's postgraduate lecture theatres, hub facility, control and meeting rooms and a professional post-production facility in the Storz skill centre. The project culminated in the UK's first laparoscopic surgery to be conducted using three-dimensional imaging and live HD video feeds and has transformed the face of minimally invasive surgical techniques.
The AV Magazine awards are designed to recognise the best professional AV projects that maximise the benefits of audio visual technology to the client. By winning the Education Category, proAV demonstrated innovative use of AV technology in education without which the pioneering laparoscopic surgeries that are now carried out in High Definition 3D and demonstrated to students in an adjacent training centre would not have been possible.
'Naturally, we're delighted with the success we've achieved at this year's AV Awards,' revealed Ray Phillpot, Chairman of proAV. 'It marks a year of phenomenal growth for us, which is reflective of our ability to capture novel technologies and design award-winning solutions around them. It also helps to remain mindful that clients in our globalised marketplace have become increasingly communication-savvy; quite rightly, they expect next-generation AV to be integral to any project that brings people together and makes organisations perform better.'
proAV's success with the MATTU project, however, was just part of the AV Awards 2011 story. An equally impressive corporate project to equip the iconic European headquarters of Japanese investment bank, Nomura, with pioneering AV and broadcasting facilities was Highly Commended within the Business Installation category. proAV was also a finalist in the Video Conferencing Project of the Year category for its incredible ATX dominated solution at global insurance organisation, Catlin's new London offices.
proAV and its sister company proVC are world leaders in the provision of audio and visual communications for the corporate, education, public and leisure sectors. Implementation of groundbreaking AV communication and display solutions along with training and full support is available globally and includes a portfolio of managed services.
###