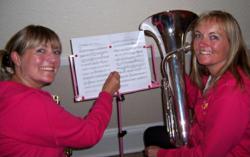 Our team were all inspired by the sheer uniqueness and determination of these people to help those affected by cancer
(PRWEB UK) 12 October 2011
When Magnet Expert Ltd were approached by Margaret Betts of Boobs & Brass in Northamptonshire for a number of pink skittle magnets, they were intrigued to hear her story.
Margaret wrote how herself and a friend, Jane, had set up and currently run the first all-female brass band which performs for charity across the United Kingdom. The band has been running for five years and is still going strong. Margaret wrote to Magnet Expert to tell them about how their band had already raised over £78,000 for the Breast Cancer Campaign (research the cure) since their first concert; this figure is still increasing on a monthly basis.
It is needless to say that Magnet Expert team were all inspired by the sheer uniqueness and determination of these people to help those affected by cancer.
The band had a requirement for magnets to secure the music sheets on their stands whilst playing outside. It can get rather windy on those band stands! – Luckily, Magnet Expert Ltd had just the right colour magnets to go with the ladies trademark and renowned pink jackets.
Without a second thought, Magnet Expert immediately offered their Pink Skittle magnets free of charge to Margaret and her Boobs & Brass band.
The Magnet Expert Ltd team receives calls every week with customers wanting to secure paper to metal stands outdoors for a number of applications. Skittle Magnets are by far the preferred choice as they have a handle for ease of use and come in a variety of colours… they also have a strong Neodymium magnet on the base!
Magnet Expert Ltd wanted to be a part of the continuing success of this unique, inspirational and life changing group of people, Boobs & Brass, in any way they could. They felt that by giving the band their Pink Skittle Magnets free or charge, it would help them a little further on their journey.
Magnet Expert Ltd wishes the entire band and team at Boobs & Brass much success in the future and looks forward to working with them again very soon.
Do you want to see the amazing work Boobs and Brass are doing? We highly recommend you take a look at their website http://www.boobsandbrass.com
###