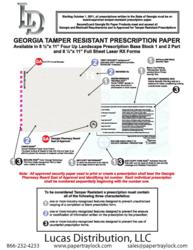 New RX580 Full Sheet paper complies with all requirements set forth in O.C.G.A. 26-4-80.1
Atlanta, Georgia (PRWEB) October 12, 2011
To meet the needs of valued customers in the medical industry, Lucas Distribution, LLC now carries tamper resistant prescription paper, approved by the Georgia Board of Pharmacy.
A new law, requiring that all Schedule II prescriptions be written on secure paper certified by the Georgia Board of Pharmacy, came into effect October 1st. Lucas Distribution has already started shipping RX580 Full Sheet paper to authorized practitioners throughout Georgia.
Managing Partner of Lucas Distribution, Gary Lucas, issued the following statement on October 5th: "We are pleased to announce that prescription paper compliant with new Georgia Board of Pharmacy regulations is now available for immediate shipment."
The law (O.C.G.A 26-4-80.1) was signed in July, 2011, and in September, the Board of Pharmacy made changes to clarify the requirements for the paper. Rather than requiring pre-approval by the Board of Pharmacy, as the law initially stated, vendors may now market and sell paper that meets the specific criteria.
The paper must have:
1. One or more industry-recognized features designed to prevent unauthorized copying of a completed or blank prescription form;
2. One or more industry-recognized features designed to prevent the erasure or modification of information written on the prescription form by the practitioner;
3. One or more industry-recognized features designed to prevent the use of counterfeit prescription forms.
According to O.C.G.A. 26-4-80.1, the sheets must also contain the Georgia Board of Pharmacy Seal, a batch number, and each sheet in a batch must be sequentially numbered.
The full sheet paper that is now in stock and ready to be shipped by Lucas Distribution meets all of these requirements, and has been approved by the Georgia Board of Pharmacy for use in Georgia. The paper is available in sequentially numbered 1,000 sheet quantities, or in 2,500 sheet cases.
To order the new RX580 Full Sheet prescription paper, or any of the many office supplies and quality products from Lucas Distribution, visit their website today. Customers can create a free account or shop as a guest, but either way they can be assured that they will have a secure and pleasant shopping experience.
Lucas Distribution also offers printer paper tray locks to secure your prescription paper, storage and file cabinet locks, laptop & notebook cable locks, refrigerator locks, USB Dongle Lockboxes, and printer cabinets.
For more product information, visit http://www.papertraylock.com/.
About Lucas Distribution:
Lucas Distribution, LLC, is an Atlanta-based, worldwide distributor of office equipment and security hardware. Lucas Distribution is one of the largest distributors of paper tray locks in the world and one of the nation's largest copier cabinet distributors for the Ricoh, Canon, and Toshiba product line. It is expert at locking printers, copiers, and other types of office equipment with more than 41 years of combined experience between its partners. Beyond supplying high quality products at attractive prices, Lucas Distribution offer unparalleled customer service to all.
###