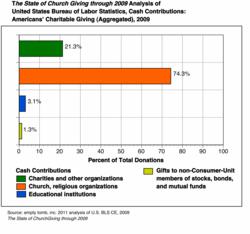 Champaign, IL (PRWEB) October 10, 2011
Americans gave 74% of their donations in 2009 to "church, religious organizations," according to an analysis of federal data in The State of Church Giving through 2009.
The new book is to be released on October 14, 2011.
The analysis in the new book published by empty tomb, inc. is based on U.S. Bureau of Labor Statistics Consumer Expenditure Survey (CE) data for 2009.
Three other categories also received donations in the CE 2009. The category of "charities and other organizations" received 21% of Americans' donations. Gifts to "educational institutions" claimed another 3%, while "gifts to non-Consumer Unit members of stocks, bonds, and mutual funds" represented 1% of donations.
The analysis found giving to religion was the largest category, in every age bracket, in every income bracket, and in every region of the country.
Regional Giving. The South has traditionally given the largest portion of income to charity, according to empty tomb's analysis of 1987 through 2009 CE data. The South's annual average for 1987 through 2009 is 1.7% of income.
In 2009, Americans in both the South and the West donated 1.8% of income. Those in the Midwest gave 1.7%. The Northeast traditionally has been in fourth place. It was again in 2009, with 1.0% of income donated to charity.
Church Member Giving Down in 2009. The new report also looks specifically at church member giving in 2009 for a set of denominations representing over 100,000 churches in the U.S.
The analysis found that per member giving declined in current dollars from 2008 to 2009. From 1968 to 2009, the first time church member giving declined in current dollars was in 2008.
"Giving to churches in 2009 may have been impacted by the recession," the report's authors said. "It is also possible that these declines were part of a long-term trend during the 1968-2009 period, that saw a decline in giving to churches as a percent of income."
Benevolences as a Percent of Income at Lowest Point. As evidence of the long-term decline in giving to churches, the authors point to the trend in giving as a percent of income to Benevolences, that is, spending beyond the local congregation. The amount given to Benevolences in 2009 was 0.34%, the lowest amount in the 1968-2009 period reviewed. The 2009 level was about half the 1968 Benevolences giving level of 0.66%. The category of Benevolences includes support for denominational programs as well as international and local missions.
Membership. The study also found that membership as a percent of U.S. population for a group of 36 Protestant denominations and the Roman Catholic Church decreased between 1968 and 2009. The broad group of communions represented 45% of the U.S. population in 1968 and 36% in 2009. Even so, that membership totaled 110 million Americans in 2009.
Potential. The potential for church leaders to mobilize members to increase giving still exists. However, according to the report, church members are not likely to give more to maintenance church institutions. Leaders need to point to a "vision" to engage Christians both inside and outside congregations. As a possible focus for increased giving, the authors point to, for example, the 16 nations that are not making progress in reducing the number of deaths in children under five years of age. An analysis of the religious makeup of these countries found that 10 of the 16 nations have a weighted average of 84% Christian.
Church Member Giving in Recession Years. The new report also considers church member giving in recession years. No pattern was found in a review of data for 1968 through 2009. In addition, a review of data for 11 denominations for the period 1921 through 1967 did not find that church member giving declined in recession years (apart from the Great Depression), although giving did decline in some non-recession years.
New Religious Construction. The State of Church Giving through 2009 also reviewed new religious construction data from the U.S. Census Bureau. Per capita spending in 2009 on new religious construction was down from 2008. When population and income were factored in, per capita spending as a percent of income in 2009, measuring 0.06%, was at the lowest level in the 1964-2009 period. In comparison, the figure in 1965 was 0.25% of per capita income spent on new religious construction.
For Author Comments or Details of the Findings. Contact Sylvia Ronsvalle, empty tomb, inc., research(at)emptytomb(dot)org or (217) 356-9519.
Book Available October 14, 2011. The new report, authored by John and Sylvia Ronsvalle and published by empty tomb, inc., is scheduled to be released on Friday, October 14, 2011. The full title is: The State of Church Giving through 2009: Jesus Christ, the Church in the U.S., & the 16 No-Progress-in-Child Deaths Nations, 10 Being 84% Christian. Copies are available through Internet booksellers, or directly from empty tomb at http://www.emptytomb.org/pubs.html.
###