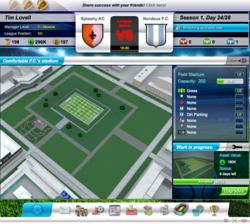 These changes make Top Eleven even more life-like by bringing in more decisions to keep managers thinking and on their toes.
Belgrade, Serbia (PRWEB) October 11, 2011
Nordeus, developers of Facebook's most played sports game, Top Eleven, has announced the first major update to the game since it launched 1 year ago. Top Eleven 2.0 will be available to play from today on Facebook and at TopEleven.com
Top Eleven lets would-be football (soccer) managers select, train and build their own squad of players to compete against fellow Facebook friends over the course of a 28-day season. Those at the top of the league can relish in the glory of promotion into the next league, facing tougher opponents and with the rewards of more money, better players and the lure of the Champions Cup. Managers are also responsible for every detail of running the club, from developing players careers, picking the best sponsorship deals and building new stadium facilities.
Top Eleven 2.0 brings a huge wealth of new features to help managers become the next José Mourinho. The biggest changes are:

Training – the complete overhaul of the training mode now lets managers control every aspect of coaching their team. Decisions need to be made about which skills to focus a player on developing, how to balance the intensity of training with players physical condition, and whether to change a players career and train them for a new position
Club Finances – managers can now win more premium currency for free than ever before by strategically choosing sponsorships deals. They can sign a risker deal linked the results of the team, or play it safe and gain tokens on a daily basis
New Interface – Top Eleven's sleek new look makes the game even easier to navigate and is built so to update with new features in the future
Branko Milutinović, Nordeus CEO, said: "We've been working really hard over the last six months to get these new features built into the game. The early feedback we've got from our loyal BETA testers has been fantastic and helped us fine-tune the new features, ready for our millions of players."
"These changes make Top Eleven even more life-like by bringing in more decisions to keep managers thinking and on their toes. Previously, on-the-pitch strategies were the main way in which players could stamp their identity on their team. Now it's possible to strategize the running of managers' club across the entire game."
Top Eleven became the most played sports game on Facebook after it overtook gaming giant Electronic Arts' EA SPORTS FIFA Superstars in June. Top Eleven now has 4.6 million monthly active users, nearly 1 million of which log on every day to play.
-ends-
About Nordeus
Nordeus are leading Facebook developers and makers of Top Eleven – Facebooks No.1 sports game. The company aims to provide the highest quality social gaming experience to millions of people, making social games that are free and accessible for everyone to play, on any device. Nordeus is an online gaming and private limited company based in Belgrade, Serbia.
http://www.nordeus.com/
###