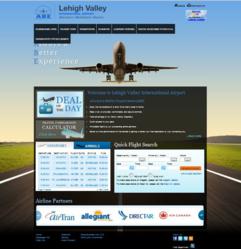 Our new website is just another example of our commitment to continuous improvements for our customers.
Lehigh Valley, PA (PRWEB) October 12, 2011
On Wednesday, October 12, 2011, the new Lehigh Valley International Airport (LVIA) website http://www.FLYLVIA.com was launched. "Our new website is just another example of our commitment to continuous improvements for our customers," said David C. Haines, Chairman, Lehigh-Northampton Airport Authority Board of Governors. "As with our current airport renovations, we are striving to make our passengers' travel experience as convenient and customer friendly as possible. The website was designed entirely with the passenger in mind."
Key features include:

All passenger resources on the home page, including Parking, Trip Search, Deal of the Day, Travel Cost Calculator, Departures, and Arrivals.
Easier navigation, so passengers can get the information that they are looking for quickly.
A large image background that pulls the passenger into the experience and provides a clean, easy-to-read look.
Improved Search Engine Optimization, will help passengers locate Lehigh Valley International Airport in PA, NJ, and nationwide search results.
Highlighting of Airline Partners on the homepage for passengers to easily access airline websites.
Integrated in the website is also an updated logo for the airport. The new logo still features the Lehigh Valley airport name, but with a more prominent acknowledgement of the airport code ABE, enabling travelers to easily identify Lehigh Valley International Airport on bag tags, airline schedules, and flight departure/arrival boards where it is listed as ABE or Allentown-Bethlehem-Easton. The updated color scheme and modern, clean appearance mirror the recent renovations to the airport terminals.
The new and improved website and logo compliments the efforts being made by Lehigh Valley business and tourism organizations to increase the visibility of the Lehigh Valley community and the surrounding areas nationwide. The optimized search functionality will enable LVIA to appear in web searches when out-of-area travelers are looking for travel information in Allentown, Bethlehem and Easton, as well as New York, New Jersey, and Philadelphia areas.
"Our new website is our 24 hour/ 7 day-a-week web marketing tool," continued Haines. "It provides a huge advancement in technology and measurable social media metrics. It supports brand identification of the Lehigh Valley airport and the "Always. Better. Experience" that our airport continuously provides."
Lehigh Valley International Airport is conveniently located near Allentown, Bethlehem, and Easton, Pennsylvania and is served by Air Canada, AirTran Airways*, Allegiant Air, Continental, Delta, Direct Air, United and US Airways with 13 nonstop destinations with connections to the world. LVIA serves a 12 county area with a population base of 3.6 million people. The Airport is easily accessible from communities in eastern Pennsylvania and northern New Jersey areas. For more information on LVIA, visit http://www.FLYLVIA.com.
*AirTran is a wholly-owned subsidiary of Southwest Airlines.
###