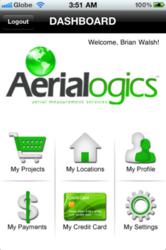 Nashua, New Hampshire (PRWEB) October 11, 2011
Aerialogics, a leading provider of aerial measurement services to the U.S. roofing, insurance and solar industries, announced today its new "Aerial Measurement App" for iPhone mobile devices as a free download from the Apple App Store. Estimators and adjusters who set up a free account on Aerialogics' website at http://www.aerialogics.com can now access and download the free app using the link: http://itunes.apple.com/us/app/aerial-measurements/id467616419?ls=1&mt=8 and enable iPhone ordering, tracking and receiving of Aerialogics' aerial measurement reports, right from their mobile devices.
Aerialogics' Aerial Reports are professional estimating tools estimators and adjusters order online with simple submission of a project's physical address. In turn, Aerialogics' expert CAD technicians utilize aerial images of the property to construct 3D models of roof structures from which accurate 2D diagrams of roof lengths, area and pitch measurements are produced. Report delivery within 24 hours gives end-users a timely and safer means of obtaining measurements needed for roof estimates and property loss documentation. Included in Aerialogics reports are five full-color property photos, summary page, waste factor table, and 'Field Notes' grid diagram for convenient on-site mark-ups. Reports are customized with the client's corporate logo and contact information, supporting their use as compelling, professional presentation tools.
The Aerial Measurement App for the iPhone offers a new level of time management for report end-users, providing on-the-go access to aerial measurements that are consistently accurate to 1-2% of actual measurements. Aerial reports function to reduce time, fuel, safety risk, and project waste, by helping estimators and adjusters avert the need to get up on multi-story, complex, and hazardous roofs to manually collect comparably accurate measurements. Aerialogics is the only aerial measurement service providing 24 hour turnaround, flat-rate pricing, (residential reports are only $49.95; commercial reports are just $79.95), along with address-specific 'Most Recent Hail Event' data, powered by the authority in forensic weather data, iMAP Weather Forensics/WDT Inc., as standard features of its service.
"The iPhone is the most widely distributed phone and Aerialogics' free iPhone Aerial Measurement App is a good start toward expanding access to our services through a leading venue that we will utilize going forward to introduce new advancements in aerial measurement to our clients. In the coming months end-users will find our app updates supporting not just roofing measurements but also siding, fencing, landscaping, solar and more." said Aerialogics CIO, Sumit Kumar.
AERIALOGICS is a pioneer in aerial measurement services for the U.S. roofing, insurance, and solar industries. Our expertise converting aerial images of properties into accurate, diagramed measurements in 24-hours-or-less reduces estimating costs and improves productivity. For more information please visit: http://www.aerialogics.com
###