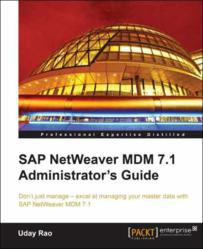 Don't just manage – excel at managing master data with SAP NetWeaver MDM 7.1
Birmingham, UK (PRWEB) October 13, 2011
Packt is pleased to announce its latest SAP book: SAP NetWeaver MDM 7-1 Administrators Guide, a comprehensive guide with illustrative screenshots that includes various techniques for effectively managing master data using SAP MDM 7.1. Written by Uday Rao, this book highlights best practices and life cycle implementation using MDM, as well as the concepts behind various aspects of SAP MDM administration.
SAP NetWeaver Master Data Management is a component of SAP's NetWeaver product group. It is used as a platform to consolidate, cleanse and synchronize a single version of the truth for master data within a heterogeneous application landscape. It has the ability to distribute internally and externally to SAP and non-SAP applications. SAP MDM is also a key enabler of SAP.
SAP NetWeaver MDM 7.1 Administrators Guide will help readers explore SAP NetWeaver MDM business scenarios while configuring the MDM Console, MDM Server, MDM repository, and the DBMS. It not only explains how to maintain the integrity of the MDM repositories but also assists in loading source data files into repositories using import maps. It further helps understand the integration of MDM with various SAP NetWeaver components. This book is a step-by-step tutorial that explains how to successfully administer SAP NetWeaver MDM 7.1. It will help administrators plan and manage master data with SAP NetWeaver MDM. By using this book, readers will be able to share harmonized master data that is formerly trapped in multiple systems, and ensure cross-system data consistency.
Packed with illustrations and written in an easy-to-read style, this book is a great resource for administrators who are responsible for implementing and managing SAP NetWeaver MDM in their systems. This book is out now and available from Packt and other booksellers.
About Packt Publishing:
Packt Publishing is a modern, innovative publishing company and has published into the SAP space previously with books including: SAP BusinessObjects Dashboards 4.0 Cookbook, SAP Business ONE Implementation, and Mastering SQL Queries for SAP Business One.
###