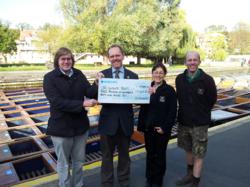 This year has been a fantastic success and we are very excited about developing our partnership with Scudamore's further
Cambridge, United Kingdom (PRWEB) October 14, 2011
On Monday 10th October, Robin Woolley, Sales & Marketing Manager at Scudamore's Punting Company in Cambridge, handed over a cheque for £3649.50 to Brian Eversham, Chief Executive of the Wildlife Trust. This figure represents 50% of the proceeds raised from the run of bat tours, which Scudamore's had pledged to donate to the Trusts.
Scudamore's, in partnership with the Wildlife Trust ran a series of punting bat safaris along the River Cam between May and September this year. Over the run of tours, which ran weekly on each Friday night, more than 500 customers attended.
Brian Eversham, Chief Executive of the Wildlife Trust, explains, "This is just the perfect partnership for us! It is a fantastic opportunity to inspire people about their local wildlife and how important it is for us to look after it. And it helps us to raise some of the funding we need to do just that! Bats can seem very mysterious creatures and by linking up with Scudamore's we've been able to dispel some of the myths and show people the bats that live here right in the heart of Cambridge. This year has been a fantastic success and we are very excited about developing our partnership with Scudamore's further"
Robin Woolley, Sales & Marketing Manager for Scudamore's, said: "We are absolutely thrilled to have been working with the Wildlife Trust this year. Not only have we been able to raise awareness and funds for one of Britain's most misunderstood yet important creatures, the bat, but we have established a partnership with the Wildlife Trust that we believe will be long-lasting and will have a really positive impact on the river-related eco-systems and wildlife in Cambridge."
The interactive tours, punted by Scudamore's staff and led by a Wildlife Trust bat expert, took customers on a 75 minute journey along the Grantchester stretch of the River Cam, which houses a vibrant bat population. The bat expert introduced important facts and information on all the varieties of bats likely to be encountered during the tour, followed by a tutorial on the use of electronic bat detectors shared between the customers.
Scudamore's and the Wildlife Trust plan to run the tours again next summer, each Friday night between the middle of May and the middle of September. As well as these public tours, there is scope for private tours to take place on other nights of the week subject to the availability of bat experts. Further information will be available from the Scudamore's bat tour page in due course.
In addition, there are plans afoot to run a weekly, more general, daytime wildlife tour towards Grantchester on each Sunday between the middle of May and the end of August. More details of this will be available from Scudamore's and the Wildlife Trust from early 2012. Expressions of interest in booking tickets for this can be made by telephoning Scudamore's on 01223 359750 or emailing enquiries(at)scudamores(dot)com
###