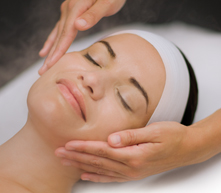 Houston,TX (PRWEB) October 11, 2011
Massage Envy has teamed up with Murad®, the leader in anti-aging and acne treatment products, to offer guests the very best in skincare right in their very own clinics. These groundbreaking skincare products are specially formulated by Murad® exclusively for Massage Envy. Each facial is performed by highly trained and professional estheticians'. The benefits of Massage Envy Murad® facials include:

Skin rehydration and moisturizing
Reversing visible signs of aging
Improving skin's tone and texture
Reducing redness and blemishes
Not sure what type of facial is right for your skin? Guests of all skin types can enjoy these luxurious and rejuvenating facials, and even purchase the products right in the clinic.
Environmental Shield® Vitamin C Facial
This scientifically proven spa facial is designed to reverse the signs of aging that occur from free radicals such as smog, pollution and stress. Rich in antioxidants, it delivers Vitamin C directly to the skin via Murad®'s patented infusion technology. It minimizes wrinkles and fine lines, boosts collagen production and fades pigmentation and age spots. You will leave the clinic with clearer, younger and healthier looking skin. This is one of the best anti-aging products on the market.
Clarifying Enzyme Acne Facial
From hormonal breakouts to severe acne, if you are acne prone then this facial treatment is for you. The Clarifying Enzyme Acne Facial improves skin clarity, reduces blemishes, soothes inflammation and reduces redness. The formula includes a powerful blend of ingredients to calm, soothe and hydrate the skin without irritating or over drying.
Anti-Aging Facial
Do you want vibrant, healthy and younger looking skin? Murad®'s anti-aging skin treatment is appropriate for all skin types that want to reduce fine lines and wrinkles. Glycolic acid works with a unique patented blend of anti-oxidants and hydrators for maximum exfoliation and improvement in the skin's tone, texture and appearance.
Sensitive Skin Facial
The Sensitive Skin Facial repairs and balances easily irritated skin. Murad®'s special therapeutic formula provides mild exfoliation and a soothing mask to help reduce redness while restoring hydration.
Massage Envy has 28 convenient and affordable locations in the Houston area. For a complete list of Massage Envy Houston area spas that offer Murad® Healthy Skin products, please visit http://www.massageenvyhouston.com
About Massage Envy
Massage Envy, based in Scottsdale, Arizona, is the leading provider of therapeutic massage in the United States. The national franchise is dedicated to providing professional and affordable therapeutic massage and spa services to consumers with busy lifestyles at convenient times and locations. Founded in 2002, Massage Envy has 700 locations in 44 states and has experienced 25 percent year‐over‐year growth. In addition, the average unit volume for a Massage Envy Spa is $1 million. The company was recently named a top AllBusiness (a D&B company) AllStar Franchise, and is a member of the International Franchise Association (IFA). For more information, visit MassageEnvy.com.
###