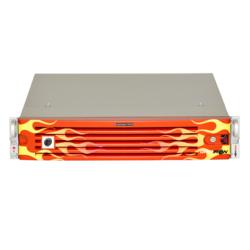 "EMC and GridIron have jointly demonstrated that GridIron technology can significantly increase the performance of Microsoft SQL Fast Track Data Warehouse hosted on any existing EMC storage." - Dan Thacker, EMC
Seattle, WA (PRWEB) October 11, 2011
PASS 2011 Conference – GridIron® Systems is demonstrating how its revolutionary TurboCharger™ data acceleration appliance can transparently accelerate "big data" in large, demanding, SAN-based data warehouse environments that rely on Microsoft SQL Server.
GridIron's TurboCharger acceleration appliance delivers data to SQL Server users at the fastest solid state memory speeds without the expense of using solid state disks as primary storage or arraying hundreds of new hard disks. Sitting between the servers and storage, the TurboCharger uses proprietary Set-Ranking™ analytics to identify what data is currently in-demand. Then, in real time, it copies that "hot data" to high performance solid state memory to deliver it up to 100X faster.
TurboCharger is the only solution in the industry that not only speeds up access to "big data," but also requires zero changes to server, storage, application software or operational practices – not even to install it. It also removes the need for repetitive time-consuming storage array tuning of data using complex disk layout schemes.
When tested at the Microsoft Technology Center, the GridIron TurboCharger and the EMC CLARiiON CX4-960 showed how they together provide a scalable high performance data warehouse infrastructure for SQL Server data warehouses.
"EMC and GridIron have jointly demonstrated that GridIron technology can significantly increase the performance of Microsoft SQL Fast Track Data Warehouse hosted on any existing EMC storage," said Dan Thacker, CTO, Americas Strategic Sales Alliances at EMC Corporation. "The attractiveness of the GridIron solution to EMC's customers is that it seamlessly integrates into the customers' existing environment and requires no changes to the application, database, server or storage."
GridIron TurboCharger is currently used by Microsoft partners, such as Continental Resources, Inc. (ConRes), to help their customers mitigate high costs and data management complexities in SQL Server environments.
"Our customers look to us to recommend the best way to solve their database performance and scalability problems," said Ed McCann, Vice President of Sales at solution provider company ConRes. "GridIron TurboCharger is the best solution in the market due to its ease of implementation. It installs in an hour and does not require any changes to the existing environment. It is also the most cost effective way to bring the goodness of solid state drives to solve problems in the data center."
PASS Summit 2011 attendees can view the TurboCharger big data warehouse showcase at GridIron's booth #529. The "EMC Accelerates Microsoft SQL Server Data Warehouse" white paper and other resources are online at http://www.gridironsystems.com.
About GridIron Systems
GridIron Systems is a Big Data Acceleration company based in Sunnyvale, California. Formed by a team of networking, storage and SAN innovators, it has focused on bringing the benefits of new technologies like solid state disk to improve data center performance and costs with the LEAST amount of operational disruption. GridIron has 24 patents pending in areas related to big data storage, access-behavior analysis and management. GridIron offers the most comprehensive solutions to speed up multi-terabyte databases including clustered and virtualized environments at a fraction of the cost of alternatives. Additional information is available at http://www.gridironsystems.com. Follow GridIron on Twitter: @gridironsystems.
GridIron, TurboCharger and Set-Ranking are registered or claimed trademarks of GridIron Systems, Inc. All other marks are the property of their respective owners.
###