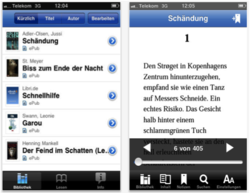 Seattle, WA (PRWEB) October 11, 2011
The Frankfurt Book Fair opens this week and one entrepreneurial U.S. company is giving booksellers around the world a way to compete with the established players through its powerful cross-platform e-reading solution. Bluefire Productions announces today that with the release of its Android e-reader, book retailers now have a broad-reaching and powerful solution to quickly gain distribution and visibility in the e-book marketplace. Retailers in Germany, France, Switzerland, Romania, Brazil, Japan, Singapore, Quebec and the U.S. have all tapped Bluefire Productions to license and deploy their own branded e-reading applications, making it easy and affordable to roll out full-featured, competitive mobile e-reading/retailing solutions on the most popular mobile devices. Based on the industry-standard Adobe digital publishing platform, the Bluefire white-label platform gives brick-and-mortar booksellers, start-ups and publishers the ability to compete effectively with the market leaders.
The Bluefire Reader application is one of the top e-reading applications for iOS and Android devices and powers the popular Books-A-Million mobile storefront in the U.S., among others. Bluefire now provides the same for booksellers around the world, with new retailers including Libri.de in Germany, Elefant.ro in Romania, Livraria Cultura in Brazil, SmartReader in Japan, and Archambault in Quebec. These international retailers licensed the Bluefire platform because it delivers:
o The fastest and most cost-effective way to enter and compete successfully in the global e-reading marketplace;
o New opportunities to build and maintain close relationships with customers who already shop at their stores with the same ease and features as any online bookstore;
o The ability to deploy robust mobile applications that support rights managed ePUB and PDF titles that use industry-standard Adobe Content Server technology.
Canada's Archambault, a Quebecor Media company, was looking for a way to distribute its wide selection of books via a mobile storefront that catered to its customers in Quebec. "Bluefire allowed us to open our iOS and Android e-reading stores within weeks of each other, and we were able to have a full-featured, branded presence on every major mobile platform," said Eric Gagnon, Vice President of Information Technology of Archambault.
"The bookselling industry is swiftly moving away from mainstreet and onto mobile devices, and Bluefire has the platform that can put the bookseller's brand and content library in front of hundreds of thousands of new customers right away," said Micah Bowers, CEO of Bluefire Productions LLC. "The international e-book market is undergoing the same kinds of changes that we've experienced here in the U.S., with thousands of small and mid-sized independent booksellers looking for ways to compete with major brands online. We give them the tools to strengthen and build their customer relationships and open up an entirely new sales channel."
Libri.de, a leading German book and e-book retailer, integrated a customized Bluefire e-reader app into its shop system as part of its e-reading initiative, eBookS, allowing people to read on any mobile device. "The Bluefire app, with its elegant user interface and comprehensive functions, is an important piece of the puzzle in supporting Libri.de's aim to make digital reading easy. We can now offer more than 300,000 e-books via tablets and smartphones," said Per Dalheimer, Managing Director of Libri.de.
Bluefire offers the only customizable, full-featured e-reading application on iOS and recently released Bluefire Reader for Android tablets and phones—making the Bluefire the leading provider of licensed cross-platform solutions. Bluefire Reader is built on the Adobe digital publishing platform, with Adobe Content Server 4 rights management, the most widely used e-book distribution system in the world, supporting the industry-standard PDF and ePUB formats. Without the Bluefire e-reader platform, retailers and publishers have no viable option for distributing content on both iOS and Android devices, which present opportunities to sell 10 times more content to consumers through the mobile channel.
Bluefire Productions at Frankfurt Book Fair October 12-16
Bluefire will demonstrate its robust e-reader mobile platform in stand 8.0 R928 at the Frankfurt Book Fair this week. The company will showcase a host of mobile bookseller storefronts on iOS and Android phones and tablets with some of the world's leading booksellers. The Frankfurt Book Fair is the most important marketplace for books, media, rights and licenses worldwide, with more than 299,000 visitors from 100 countries. Bluefire is helping companies grow their businesses to capture the exploding digital publishing opportunity. To arrange meetings with Bluefire at the event, please contact Cerena Hsieh at cerena(at)conceptpr(dot)net.
About Bluefire Productions LLC
Bluefire Productions develops software for creating, sharing, and interacting with digital media. The company provides licensed e-reading applications and custom development services to leading retailers, publishers and technology companies around the world. Bluefire Reader, a free application for iOS and Android devices, brings e-books from independent bookstores, global retailers and public libraries, into a single digital library on mobile devices. Bluefire is an authorized reseller of the Adobe publishing solutions, including Adobe Content Server 4 and Adobe Vendor ID. The company's private label solutions offer booksellers customized, branded e-reader applications, as well as opportunities to include their catalogs in Bluefire Reader. Bluefire Productions is based in Seattle. For more information, visit http://www.bluefirereader.com.
###