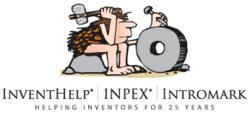 Pittsburgh, PA (PRWEB) October 14, 2011
InventHelp®, America's largest inventor service company, announces that one of its clients, an inventor from South Carolina, has designed a wand that could provide separation of eyelashes and eliminate clumping after mascara has been applied. This invention is patented.
The "Janda Eyelash Separator" design would feature a mascara brush and mascara located on one end of a tube, while separating bristles and a self-cleaning container are on the other. This combination could allow a user to define each lash more accurately, which would help make short lashes look longer and fuller, allowing for a more polished look. Because the wand helps to remove mascara clumps and prevents lashes from sticking together, a user would no longer need to use a needle or other implement, or pull at lashes, to remove the clumps.
The Janda Eyelash Separator would consist of a dual-sided mascara-style wand that would be producible from plastic. The tube would contain two make-up tools, one on either end. One side would include a mascara brush, while the other end would feature metal bristles. The metal bristles would be used after mascara is applied to separate lashes and remove excess mascara. The tube is self-cleaning, so the bristles would be cleaned when reinserted into the container. The Janda Eyelash Separator could also be produced in different colors.
InventHelp® is attempting to submit the invention to companies for review. If substantial interest is expressed, the company will attempt to negotiate for a sale or royalties for the inventor. For more information, telephone Dept. 09-CBA-1531 at (800) 851-6030.
# # #