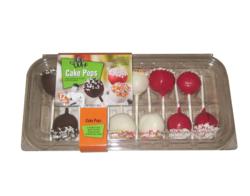 We're excited by this new partnership with Duff Goldman says Chip Daros, vice president of product development of TG Foods.
Chicago, Illinois (PRWEB) October 11, 2011
TG Foods, a commercial dessert bakery specializing in club store and supermarket products has created and launched a new line of bite-sized treats on a stick for "Ace of Cakes" star Duff Goldman.
The Cake Pops by Duff Goldman will be sold exclusively by Sam's Club in all of their clubs across the nation.
"We're excited by this new partnership with Duff Goldman," says Chip Daros, vice president of product development of TG Foods. "We've been a Sam's Club partner since 2006 and bake the popular Bakery Baron Brownie Trio and Bakery Baron Mini Pastries for Sam's Club. Our understanding of consumer trends, especially cake pops and other bite-sized indulgences is a perfect fit for our recipe creation and dessert production capabilities."
Cake Pops are one of the newest fun food trends to excite consumers. The Duff Goldman Cake Pops come in three flavors: chocolate, birthday cake, and red velvet. Each 12-count package has four pops of each flavor and only 110 calories per pop. "The package size and retail price of $7.98 is perfect for families looking for treats on a budget that taste great without the guilt of a high calorie treat," says Mike Wielgopolan vice president of sales adding, "the cake pop stick is perfect for little fingers to hold; and is elegant enough for grown up entertaining."
About TG Foods
Chicago-Illinois based TG Foods with manufacturing in Houston, TX, develops innovative dessert and bakery items to club stores and supermarkets across the country. Their products including the Bakery Baron and Duff Goldman Cake Pops can be found exclusively at Sam's Club. Other private label lines are in bakery sections and freezers across the nation.
About Duff Goldman
Duff has been cooking since the age of four when his mom caught him in the kitchen swinging around a meat cleaver, while watching Julia Child and Chef Tell on TV. After graduating from the University of Maryland, Baltimore County, he went on to study at the Culinary Institute of America in Napa Valley, California. He worked at several acclaimed culinary destinations, including the French Laundry, the Vail Cascade Hotel, and Todd English's Olives before returning to Baltimore. In March 2002, he opened Charm City Cakes. The bakery became a household name via the hit show on Food Network, "Ace of Cakes," which aired for ten seasons. Duff and his team recently headed out to Los Angeles to open Charm City Cakes West.
###