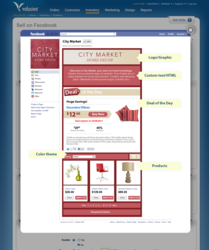 This is going to change the way Volusion merchants sell online by giving them a social outlet to feature key products and take social commerce to the next level
Austin, Texas (PRWEB) October 11, 2011
Volusion, the leading provider of shopping cart software and services for online merchants, today announced the release of Volusion Social Store. This new feature will dramatically improve the functionality and aesthetic of Volusion social stores within the Facebook platform.
As consumers look more to social media for reviews, ratings and advice on shopping, the number of social commerce purchases continues to increase. According to Mike Fauscette, Analyst for IDC Consulting, "In three to five years, 10 to 15 percent of total consumer spending in developed countries may go through sites such as Facebook." This, along with other eye-opening statistics, inspired Volusion to create its most advanced social store yet, packed with exciting features and sophisticated design.
The release of the Volusion Social Store comes on the heels of key front-end improvements such as Volusion CDN powered by Akamai, and backend improvements such as SQL optimizations and the Deal of the Day feature.
Availability and Reach
Social Store is now available completely free of charge for all plans using version V11 of Volusion's ecommerce software, allowing business owners to extend their online business to over 700 million Facebook users.
Volusion Social Store Features and Benefits

Personally select which products to feature on the Facebook page
Design the Social Store with built-in themes or custom HTML
Promote a Daily Deal directly on the Facebook page
Reward shoppers with a discount when they "Like" a business on Facebook
Supporting Quotes
"The Volusion Social Store is one of the most advanced and innovative features to be offered to our customers," said Jason Woosley, Vice President of Product Development. "This is going to change the way Volusion merchants sell online by giving them a custom social outlet to feature key products and promotions and take social commerce to the next level. Social Store allows storeowners to handpick the products they would like to feature on their Facebook page, provide social access to daily deals using Volusion's Deal of the Day feature, and reward customers for participation via the Like promotion."
"As ecommerce continues to grow, it is important for Volusion to stay ahead of social marketing trends," said Clay Olivier, Volusion CEO. "We want to make it easy for our customers to use a platform like Facebook to grow their businesses. Social Store is an exciting addition and we are looking forward to seeing the adoption of this innovative new feature."
"I am excited that our customers can now order products directly from our Facebook page," said Jonathan Gouveia of http://www.groomsday.com. "The Social Store was easy to set up and fully functional in 15 minutes! Social commerce is a large part of my online marketing strategy and Volusion has made it possible to easily achieve my goals."
About Volusion
Volusion is the leader in ecommerce solutions for online businesses. For more than a decade, tens of thousands of companies from small businesses to industry leaders like 3M, US Open, Nalgene and Oregon Ducks have used Volusion to successfully sell online. For more information about Volusion, please visit http://www.volusion.com.
###