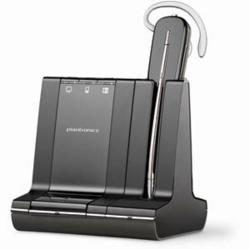 We are very pleased with the Plantronics W745. TheHeadsetShop shipped us the wireless headset in less than 3 days with Free Shipping!
San Francisco, CA (PRWEB) October 11, 2011
Some of the items featured in this month's sale include Plantronics, Polycom and GN Netcom call center headsets. On sale this month at TheHeadsetshop is the popular Plantronics CS70N wireless headset system. The Plantronics CS70N offers a lightweight and durable over the ear design with soft rubber ear hook for maximum comfort. Multiple size soft gel ear tips are included to find the right fit. The roaming range is up to 300 feet with a non stop talk time of 6 hours. This item is eligible for free same day shipping and an additional $10 off with coupon. The current sale price is $259.99 which includes the Plantronics HL 10 remote handset lifter.
The new Plantronics CS510 cordless headset system is perhaps this month's hottest item. The new Plantronics headset provides an increased 350 foot roaming range which is 50 feet greater than older units. Built for durability and comfort the CS510 offers a lightweight over the head design with soft leather ear cushion. Again this item ships free on the same day ordered so use the discount coupon in October to receive an additional $10 off. Priced at $269.99 this includes the Plantronics HL10 remote handset lifter for remote answering.
Another great item for sale this month is the Polycom Sound Station 2 conference phone with built in LCD display. The Polycom Sound Station 2 works great for any medium size conference rooms and up to 10 participants. This conference phones has a built in dial pad and works on any Analog telephone line. There is an additional Konexx adapter for digital to analog conversions if needed. Nobody does it better than Polycom for professional conferencing. This item is for sale for $459.99 and includes free same day shipping.
It wouldn't be a sale at all without the popular Plantronics CS55 wireless telephone headset system. This convertible style design features both over the head and over the ear wearing styles. Roaming distance is up to 300 feet with a non stop talk time of 10 hours. Ideal for high volume call center and busy offices built in noise canceling blocks out most unwanted background noise. Hands down one of our best selling Plantronics headset and Plantronics most demanded. The over the headband is adjustable and includes a soft leather ear cushion for maximum comfort. Please visit TheHeadsetShop to find out how you can save an additional $10 off the Plantronics CS55 throughout the whole month of October.
A popular GN Netcom headset for sale this month is the GN Netcom 9125 Duo binaural headset featuring a durable over the head design. Roaming ranges of up to 350 feet have been found. This item includes the remote handset lifter for remote answering and ships free same day. The Plantronics M220C 2.5mm cordless phone headset is on sale for $9.99 don't miss out on this huge deal. All items ship brand new directly from the manufacture and include manufacture warranties. http://theheadsetshop.com offers a 30 day return policy with zero restocking fees. We take pride in our customer service and knowledge in our products feel free to contact a customer service representative today.
This month's coupon code is oct2011 use it during checkout to receive an additional $10 off purchases over $200. Orders over $200 also include free same day FedEx or UPS Ground shipping. Contact a customer service representative at 877-656-9526.
###